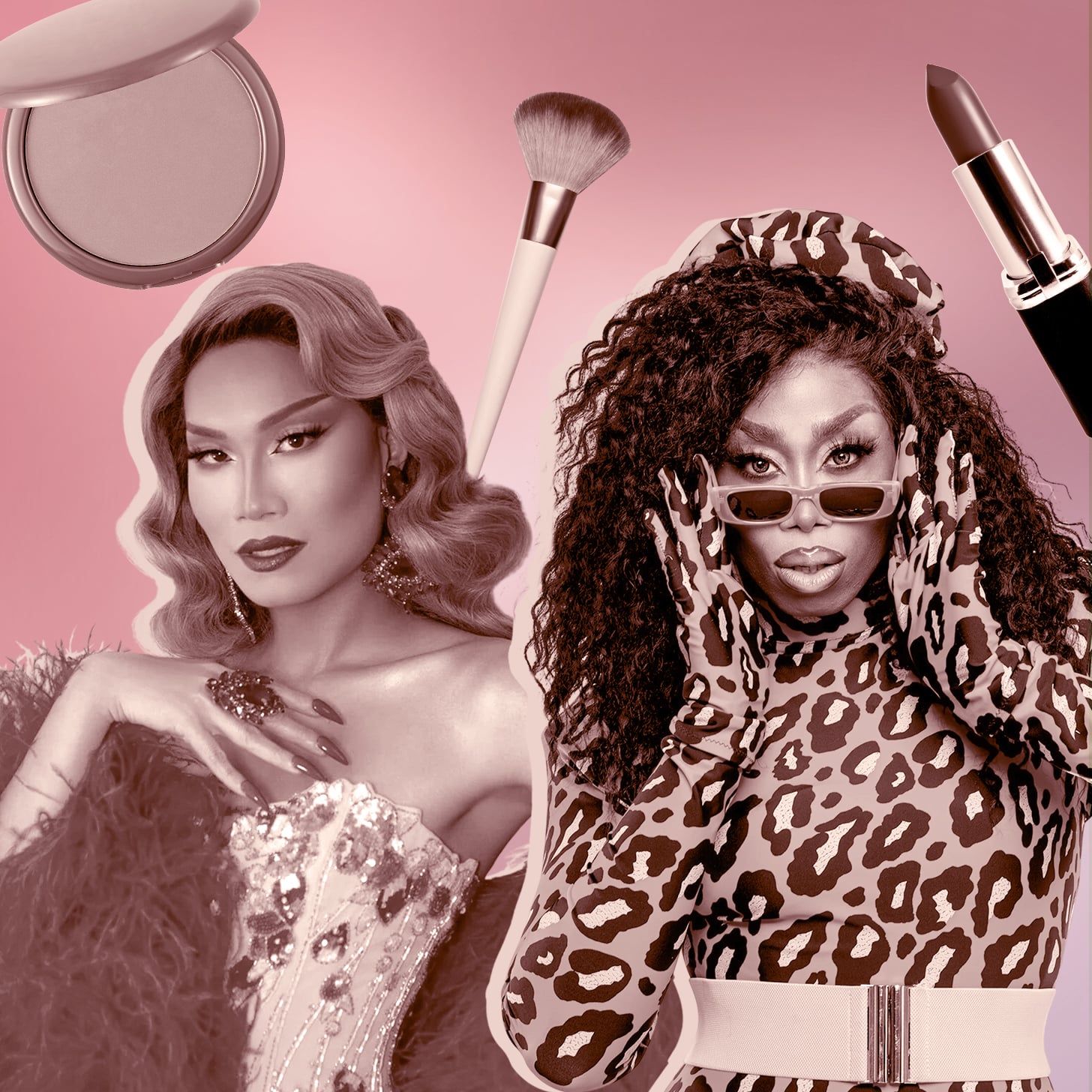 Image Source: DS Shin / Mo Heart / Getty / Sean Gladwell / Anna Efetova / Bonetta
The year is 2012 and you're scrolling on Twitter when you come across a series of photos of Kim Kardashian that stop you in your tracks. In them, she is giving her followers a peek behind the curtain of her makeup routine — revealing the contouring, highlighting, and baking process of a beauty look by makeup artist Scott Barnes.
These in-progress shots would change the course of the beauty industry forever — giving rise to the now famous "Instagram face." From them on, millions of makeup enthusiasts worldwide began carving out their cheekbones, baking their undereyes, and creating the illusion of a thinner nose via highlighting. And yet, while Kardashian fanned the proverbial flames, drag queens lit the match.
It's true: long before contouring tutorials swept YouTube and Instagram, drag artists around the world utilized these techniques in order to create the illusion of a feminized face. Evidence of this approach can be traced back to the pioneers of modern drag and can be observed in retrospect through the work of Divine, Crystal LaBeija, and RuPaul herself. Yet 10 to 15 years ago, being told your makeup resembled a drag queen was commonly thrown around as an insult. Nowadays, in many circles it's one of the highest forms of flattery.
As a result, there are countless makeup trends popular today that can be traced back to drag queens. In fact, we bet some of your favorite trends, techniques, and products have been mainstays in a drag artist's makeup routine for decades. Keep reading for all the tips and tricks you know and love, but maybe haven't heard the history behind — straight from the queens themselves.
Contouring
"While any good makeup artist would have known about contouring, the way that it's hit the mainstream definitely came through drag," says Yvie Oddly, who won season 11 of "RuPaul's Drag Race," competed alongside fellow winners on season seven of "RuPaul's Drag Race All Stars," and is now combining drag with trap music. "About five to seven years ago, you started seeing contour palettes marketed toward everyday women and [contour] was something that's a drag queen's bread and butter. Now, if you're not wearing contour, then you're basically not wearing makeup."
While many queens developed a foundation through their drag family members and the queens in their area who passed down the trade, they would also take inspiration from power players in the scene. "Drag makeup is really taught in the clubs from the older queens and showgirls," says Kahmora Hall, who competed on season 13 of Drag Race and appeared alongside Ginger Minj and Kornbread Jeté in "Hocus Pocus 2." "Even though I started off watching old YouTube tutorials, I didn't really get the grasp of the technique until I actually sat down with my drag mother, Tajma Hall, and she showed me how to do it in person."
Larger-Than-Life Lashes
"Wearing giant lashes even though you have tiny eyes — I would say that comes from drag," says Mo Heart, who competed on season 10 of Drag Race, season four of "All Stars," "RuPaul's Drag Race: UK vs the World and now hosts "The Walk In with Mo Heart" on Amazon Music. Heart also owns her own makeup brand, Mobeauty. "I mean, we see everyday individuals who have lash extensions that are giving wings and aspirations. They're giving RedBull. All of that comes from drag."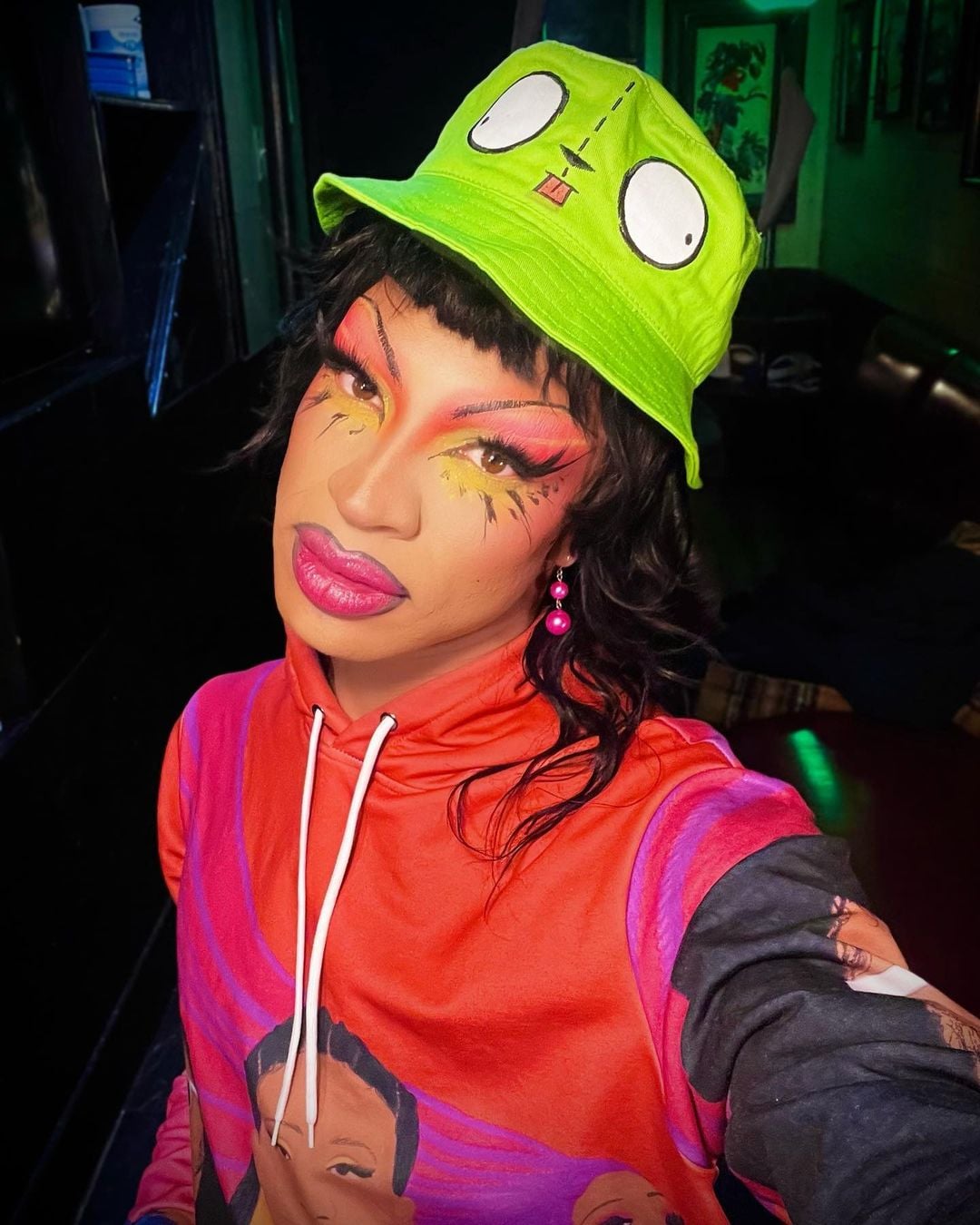 Image Source: Courtesy of Yvie Oddly
Although false eyelashes and even more theatrical approaches to painting on more dramatic lashes predates modern drag, the current trend of extremely voluminous and densely packed lashes bears striking resemblance to drag makeup. Within the scene, lashes play an important role in drawing attention to the eyes and after appearing on season five of Drag Race, Roxxxy Andrews made it common for queens to stack multiple pairs of #301 lashes onto each eye. Now, you see this aesthetic continue to play out in the mainstream beauty scene—whether that be through a more dramatic strip lash or eyelash extensions applied for everyday wear.
Purple Blush
While purple blush is a look you might see on a tenured pageant queen, it's now reemerged through brands like Fenty Beauty and Rare Beauty — albeit in a slightly different way. Although the average makeup user may not be hollowing out their cheeks with vibrant violet powder, a subtle purple tint offers a deeper flush than your traditional pinks or corals. It's all color correction baby and drag artists have been using it for decades.
"Purple was an OG blush color for drag queens," says Oddly. "You wanted [your blush] to still blend into a contour and you wanted it to be something darker to give the illusion of these purple cheekbones. I don't think as drag queens we can say that we invented color correcting, but that's literally half of our jobs."
Pink Powder for Undereyes
Long before anyone picked up a tube of green concealer, drag queens have been using the color wheel to do everything from concealing stubble to disguising undereye bags to neutralizing undertones. "I like to highlight with pink powder, which is great for brightening up an undereye, especially if you have a more of a yellow undertone," says Hall. "I remember when I posted my entrance look tutorial, a lot of people had been asking me what pink powder is and I just recently saw that it was a TikTok beauty trend to use pink powder for your undereyes. I'm not trying to say that I started it, but it's just what I noticed after my makeup tutorial."
Playing With Proportions
"Drag is so much about scale," says BenDeLaCreme, who competed season four of Drag Race, season three of All Stars and starred in "The Jinkx and Dela Holiday Special" alongside Drag race season five and All Stars seven winner Jinkx Monsoon. "I always think of a drag face as what you paint for people sitting 10 to 20 feet away. You're trying to make your eyes and your lips take up more of your face.
But if you're talking about applying drag for everyday wear it's about staying inspired by the colors, lines, and shapes but scaling it all down. When your makeup becomes amplified in terms of size and proportion, that's when you move into the drag world in the best possible way."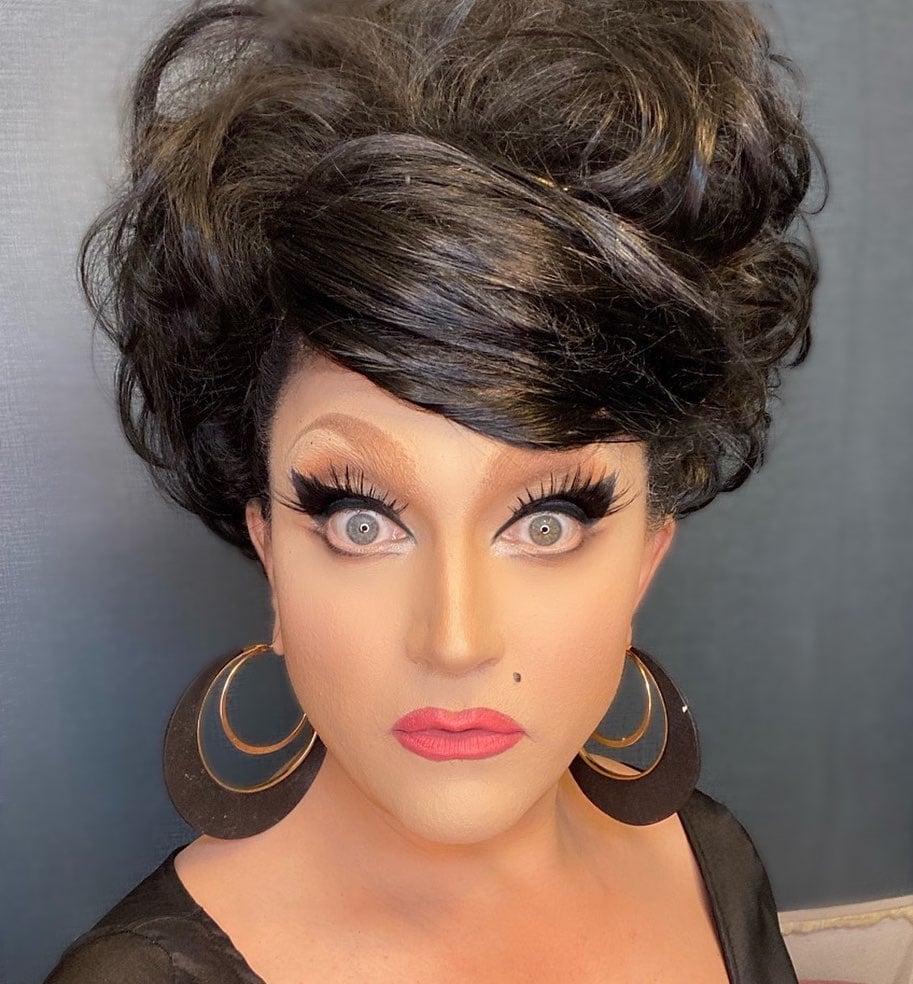 Image Source: Courtesy of BenDeLaCreme
Why Drag Makeup History Matters
To someone who hasn't spent the last 14 years immersed in lip syncs for your life, snatch games, and all things Charisma, Uniqueness, and Nerve & Talent, you may have a hard time connecting the dots between an avant-garde drag look and everyday beauty. However, to understand how you go from a dragged out contour to Kim Kardashian to the Alix Earles' of the world, you need to understand the role makeup plays within drag in its entirety and work back from there.
To define drag makeup strictly in terms of creating a feminine illusion, color correcting, and playing with proportions would be like watching "Drag Race" without "Untucked" — you're only getting half the story. Drag has been a form of protest to the injustices faced by LGBTQ+ individuals and other minorities for decades. Drag artists have stood at the front lines of various human rights movements and fought for equality for all. Nevertheless, anti-drag and anti-trans bills are currently sweeping the nation and restrictions have already been put in place in states like Florida, Tennessee and Texas. So consider supporting organizations such as the ACLU and Drag Story Hour. Plus, it never hurts to tip your local queens and if you're in the market for some new makeup products, consider supporting a queer-owned brand.
At the end of the day, whether you're modeling your makeup off of Jean Harlow, Jean-Michel Basquiat or Gene Simmons, drag is all about self-expression.
"The most beautiful makeup is an expression of what you want to put into the world," says BenDeLaCreme. "Which isn't to say 'Don't perfect it, don't refine it, don't get it to the best version of what it could be.' But the best version of what it could be ultimately can only be determined by you. The more you're willing to determine it for yourself, the more other people will feel inspired or excited."
Oddly adds, "Every generation that comes along sees that the more value you place on living your life authentically, the more rich your experiences here are going to be. So do some crazy stuff — paint your face in the dark. Use only your fingers, use only your friend's fingers. Go out with bad makeup for one night and still get called hot by a bunch of people."
Source: Read Full Article