Do you remember where you were when you found out that your fave Blink-182 member, Travis Barker, and Kourtney Kardashian were rumored to be dating??? Same! At first, there was denial. But after multiple outlets reported that Travis and Kourtney have been longtime friends and that their relationship is ~thriving~, we all had to get past the other three stages of grief and arrive at acceptance REAL quick…because they don't seem to be going anywhere anytime soon. (See: Kourtney and Travis going IG official.)
That being said, it's about time we investigate Travis and Kourtney's romance. I've compiled all the details of their 'ship through FBI-levels of snooping for your pleasure, so read it and weep below.
Editor's Note: This timeline is in reverse chronological order, meaning that the newest and juiciest updates are at the tippy top. Happy scrolling!
February 17, 2021
Kourtney and Travis take the next major step in their relationship—by going Instagram official, duh! Kourtney posts a pic of her holding Travis's hand to her feed, and Travis signals his love/approval with a lil black heart emoji in the comments.
https://www.instagram.com/p/CLYAaxaFR_H/?utm_source=ig_embed&utm_campaign=loading
A post shared by Kourtney Kardashian (@kourtneykardash)
February 14, 2021
Since COVID-19 is very much a thing still, Travis and Kourtney keep their Valentine's Day celebrations low-key and likely spend the evening together cuddled up by a romantic outdoor fireplace, which Kourtney posts to her Instagram Stories.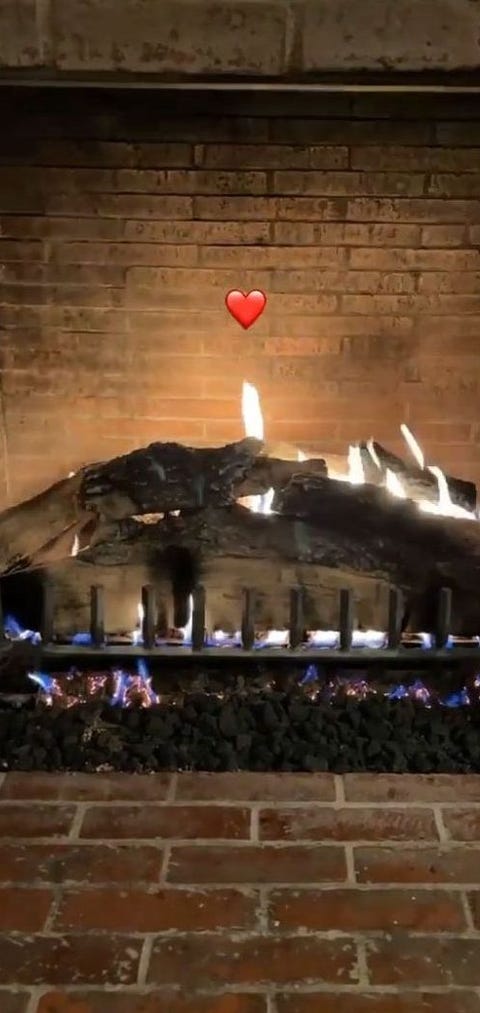 February 10, 2021
Kourtney and Travis go out for dinner in Los Angeles, and they pack on the cutest PDA. Lucky for us, an E! News source dishes all the adorable details of their outing.
"They seemed completely taken with one another as if they were the only two people in the world," the source says. "They seem very connected, very close. Travis took her hand and they giggled as they started having a little thumb war with one another. It was playful and sweet. They were talking constantly and very engaged in one another. It seems like such a natural fit, being that they have been friends for so long. There was no awkwardness."
Yep, too cute to not ship.
February 2, 2021
Kourt reveals that someone in her life went through the trouble of cropping her bikini-clad bod into a lock screen photo. And though it's p believable that Kourt would have her own bod as her lock screen (shoot, I def would if my abs looked that good), she makes a point to note "P.S. This lock screen does not belong to me."
Podcast account @NotSkinnyButNotFat is the first to make the Travis connection here, and theorizes that it's actually his lock screen (which checks out, TBH):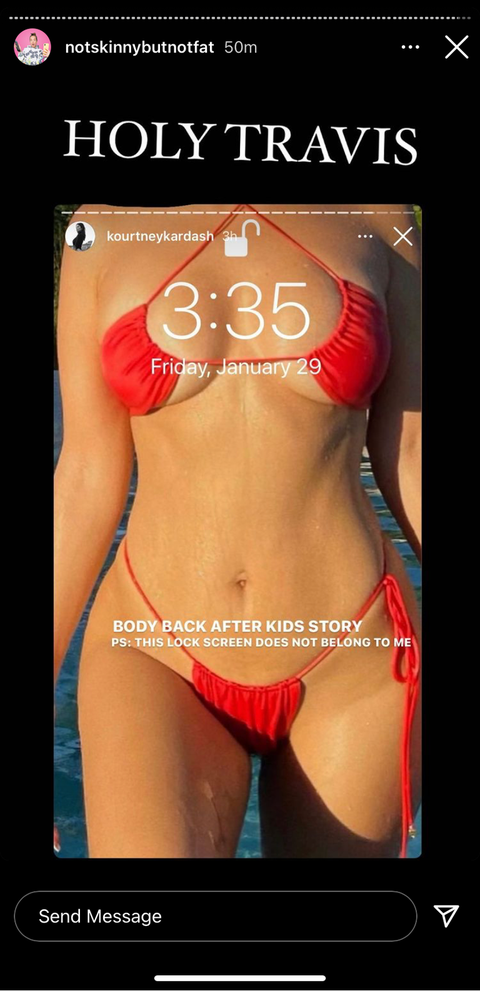 January 24, 2021
Us Weekly drops the news we've been waiting for—Travis and Kourtney are indeed dating! "Kourtney and Travis are officially a couple," a source tells the outlet. "They have been close friends for years and have been dating for a couple months. Travis is very smitten with Kourtney and has been for a while."
Yeah, and about those poolside Palm Springs pictures (try saying that five times fast)? "They're in Palm Springs together. They've been dating for about a month or two," a separate source tells People. "They've been friends for a long time but it's turned romantic."
January 23, 2021
Fans of Travis and Kourtney's notice that their faves Instagram activity looks kiiiiinda sus. Kourt posts this picture of the poolside view from Kris Jenner's home in Palm Springs:
https://www.instagram.com/p/CKab_jKlPvF/?utm_source=ig_embed&utm_campaign=loading
A post shared by Kourtney Kardashian (@kourtneykardash)
Travis also posts a daytime pic of the same poolside view, which naturally makes people wonder if he and Kourtney are dating: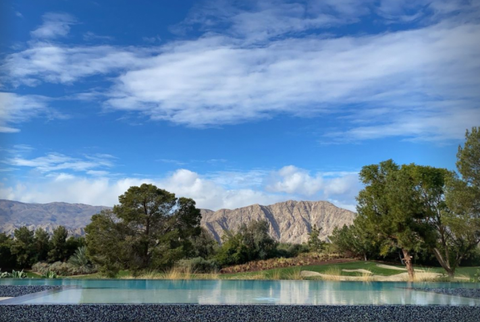 January 21, 2021
Kourtney posts a very 🔥 picture to the 'gram, and Travis fawns over it in the comments, giving her the virtual equivalent of a red rose. Suspicions about their relationship status arise!
https://www.instagram.com/p/CKS7Ziul45P/?utm_source=ig_embed&utm_campaign=loading
A post shared by Kourtney Kardashian (@kourtneykardash)

October 20, 2015
Travis confesses that he definitely had a crush on Kourtney's younger sister, Kim Kardashian, back in 2006. Despite dating Kim's employer—hotel heiress Paris Hilton—Travis says he couldn't keep his eyes off of her (which is kinda awk now, LOL).
"How could you not stare at Kim? Mind you, I enjoyed hanging out with Paris, but I love curvy girls," he tells Us Weekly at the time. "Kim was eye candy. I was no way disrespectful to Paris, but I couldn't keep my eyes off Kim!"
"I had a crush on her and we were flirtatious but nothing ever happened," Travis adds. "I don't know! She was so kind and polite, I just felt like being a perfect gentleman around her. It was a trip!"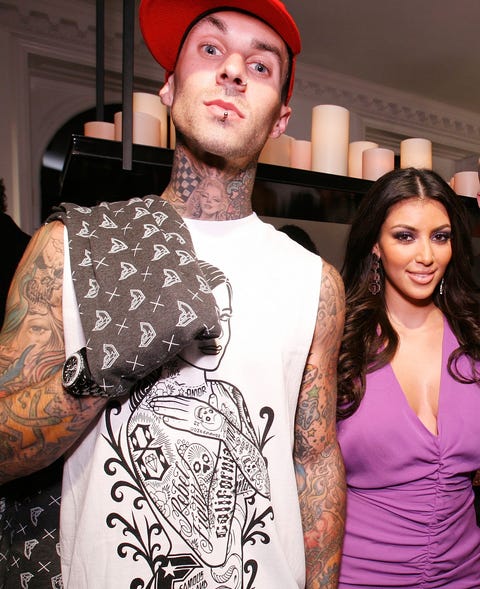 And not to alarm you or anything, but Travis is pretty much the reason why Keeping up With the Kardashians is a thing. In 2005, Travis' own reality show, Meet the Barkers was on television, which is why Kim hit him up for advice.
"Kim was like, 'I really want to do this reality show. We're supposed to do it with Ryan Seacrest. I just think my family's interesting,'" Travis recalls. "I gave her the best advice I could but I still remember the conversation like yesterday: 'I think my family is interesting and it could be something.' Well, you were absolutely right!" Travis and Kim remain close throughout the aughts, and he becomes super close to the rest of the fam since they all live in Calabasas, California. And the rest, as they say, is history.
That's all we have for Travis and Kourtney's timeline, but be sure to check back here for additional Instagram Stories and cute updates about their 'ship!
You love all the nitty-gritty deets on celeb relationships. So do we! Let's overanalyze them together.
Source: Read Full Article