Freeing the nipple is not usually an at-work activity, but if you're a runway model/influencer extraordinaire, then, well, "usual" is not a word that accurately describes anything about your life, including the advisability of workplace nipple-baring.
So, why all the nipples-at-work babbling? Blame Kendall Jenner, who brought the topic to the forefront in a new episode of Vogue's Life in Looks series when she opened up about the nipple-visible ensemble she wore when she walked in her major runway show.
The show in question was the Marc Jacobs fashion show during Mercedes-Benz Fashion Week Fall 2014 and Kendall wore a very transparent, famously-nipple-baring, tan v-neck top and capri-length khaki riding pants (accessorized with a blunt AF bob and bold headband) for the show: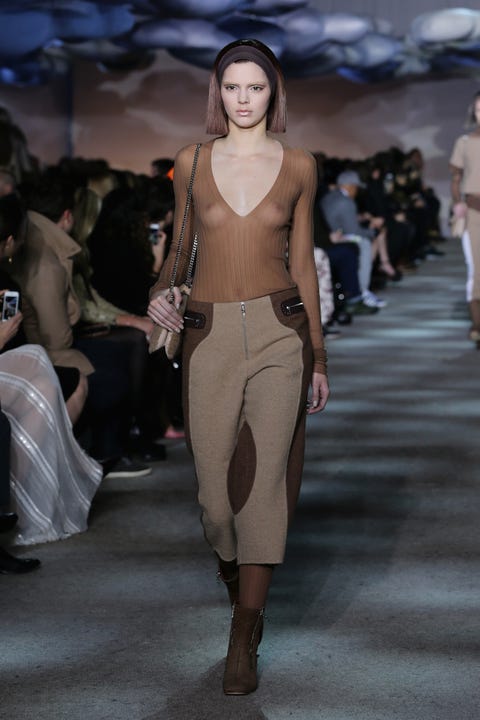 "This was my first high-fashion show, and it was for Marc Jacobs," Kendall explained in the Vogue video (per People). "I actually could not believe that I was there."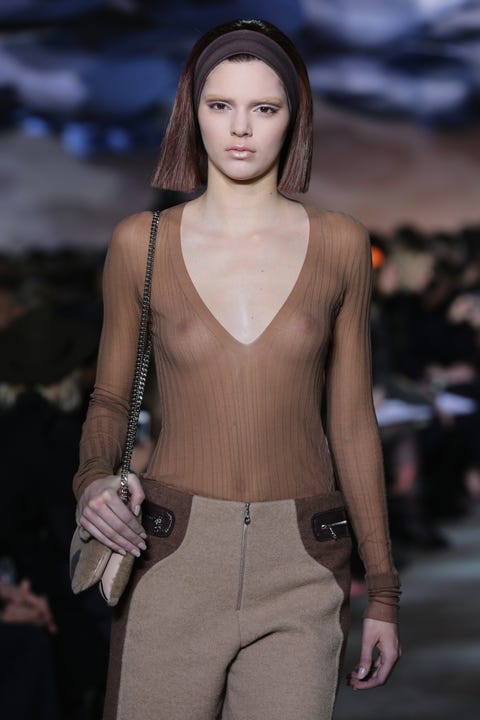 And, even though she was just 18-years-old at the time, Kendall was not even a little nervous about that first-ever high-fashion show involving a very sheer look. In fact, she says she was totally "game" for the whole thing.
"I was pretty chill even though my boobies were out," she added. "I'm all good with the nipple so it didn't make me any more nervous. I genuinely was like, 'Dope — whatever they want.'"
Kendall says she was way more nervous about her walk than anything else about the experience.
"I remember going into my agency and getting a walking lesson because I didn't necessarily know what I was doing. I think I took [the] tips too seriously and ended up being really stiff when I got on the runway," she said of her 2014 walk
This has been Kendall Jenner with some relatable self-shade about a very-not-relatable aspect of her life.
Source: Read Full Article