The 'Deadpool' actor sends a touching message to Ben Tozer after the football athlete announced his dad passed away just 48 hours after being diagnosed with leukaemia.
AceShowbiz –Ryan Reynolds has sent his condolences to Wrexham AFC's captain after his father died days after being diagnosed with cancer. The 46-year-old Hollywood star, who co-owns the football club based in Wrexham, Wales with fellow actor Rob McElhenney, sent a touching message to Ben Tozer after he announced his dad passed away just 48 hours after being diagnosed with leukaemia, despite being given a positive update on his condition.
The official Twitter account for the team tweeted, "So sorry to hear this. Our thoughts are with you and your family." And Ryan wrote in the replies, "Gut wrenching. Sending so much love to the Tozer family. (sic)"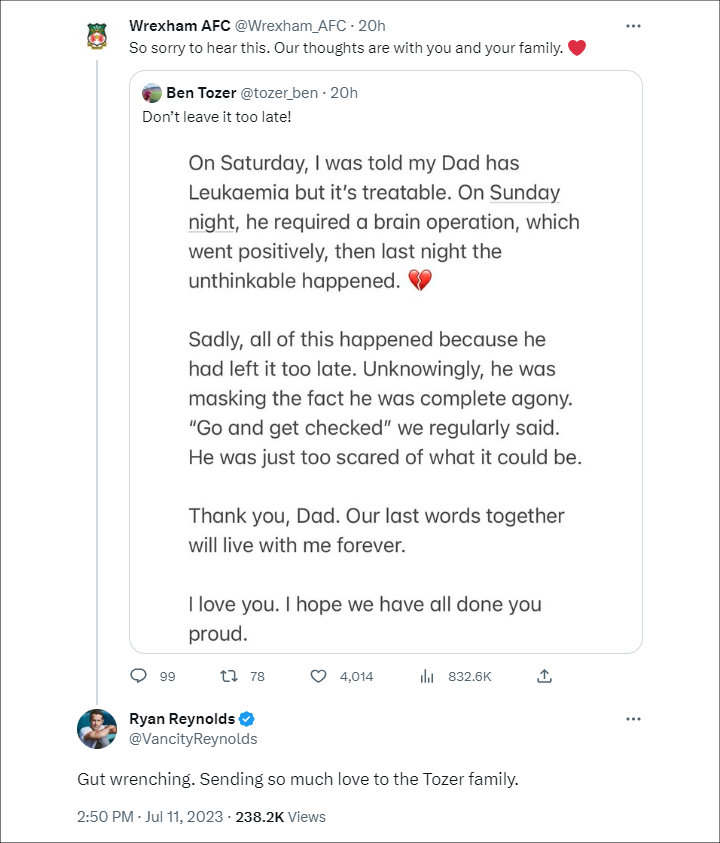 Ryan Reynolds sent his condolences to Ben Tozer after his father's death.
Centre-back Ben has implored people to get any aches and pains checked over as soon as possible as his dad left it too late. His social media statement read, "On Saturday, I was told my Dad has Leukaemia but it's treatable. On Sunday night, he required a brain operation, which went positively, then last night the unthinkable happened. Sadly, all of this happened because he left it too late. Unknowingly, he was masking the fact he was in complete agony. 'Go and get checked', we regularly said. He was just too scared of what it could be. Thank you, Dad. Our last words together will live with me forever. I love you. I hope we have all done you proud."
Meanwhile, Ryan and Rob recently led the victory celebrations after Wrexham won promotion. The "Deadpool" star and "It's Always Sunny in Philadelphia" actor, also 46, bought the club to help it move back to the English Football League, after a 15-year absence, and they achieved their aim after Wrexham won promotion as champions of the 2022–23 National League.
The pair celebrated alongside the team on one of three open-top buses, which cruised the streets of Wrexham in April to the sound of Queen's anthem "We Are The Champions", and attracted huge crowds. The actors were seen belting out the Welsh national anthem as thrilled supporters waved flags and let off red smoke flares.
The parade party was held 10 days after Wrexham secured the National League title with a decisive 3-1 win against Boreham Wood, which saw the pair in tears as they celebrated. Speaking to BT Sport after the match, Ryan said, "I'm not sure I can actually process what happened tonight, I'm speechless. One thing that's running through my head is people asking us: 'Why Wrexham, why Wrexham' – this is exactly why Wrexham. What is happening right now is why."
Rob added, "We can hear how it feels to the town and that's what's most important to us. It's a moment of catharsis for them and for us to be welcomed into their community and to be welcomed into this experience is the honour of my life."
Wrexham will start the 2023-24 season in EFL League Two, with a home game against Milton Keynes Dons, on August 5.
You can share this post!
Source: Read Full Article