Remember when Selena Gomez showed up looking fully gorgeous at the 2022 Emmy Awards, but no one could decide if the slip of her dress was meant to be riding up, or if it was a kinda aesthetic wardrobe malfunction?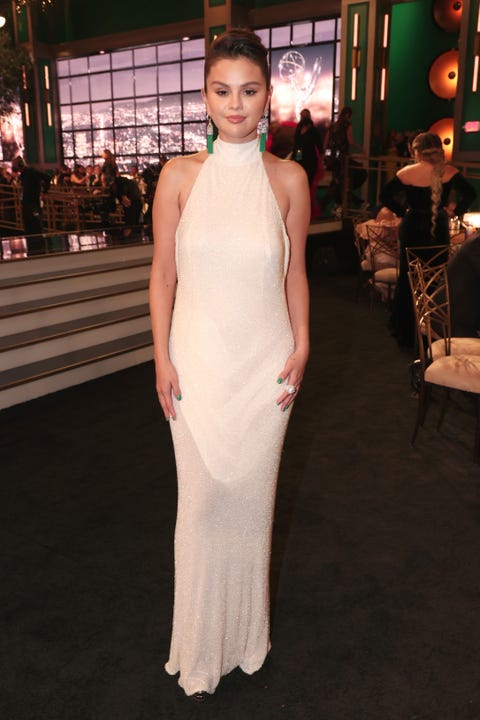 Welp, apparently, it was a wardrobe malfunction (and a chic one, tbh!). Selena revealed this nugget of info to Kelly Clarkson during an appearance on The Kelly Clarkson Show earlier this week, joking, "My dress was actually riding up the entire time. So a lot of people saw something they didn't want to see."
Despite the malfunction, Selena killed it at the Emmys—and joked around with her Only Murders in the Building costars Steve Martin and Martin Short while presenting the award for Outstanding Variety Talk Series. And by that, I mean, she responded to Steve Martin asking, "How much time do we have left?" by looking at Martin Short and deadpanning, "With a good diet and exercise, maybe 10, 12 years."
Sel previously chatted to Vanity Fair about working with the comedy legends, saying, "What I've learned is to be more snarky with my jokes. I think I have a little more bite now. I will make a small dig, and Marty will look at me, and say, 'I showed her that. I taught her well.' …I'm always hoping that I can keep up with them. The goal is to always just try to make a joke, and I do ask if they think something is funny, and if they don't, they are honest with me. It's actually really nice. I do feel like I get to learn a lot."
Oh, and Martin Short added, "I must say she's a quick learner. And she's such a great actress because she pretended to know who we were when we first started working, but really she had to Google me to find out."
Wholesome! Anyway, reminder that Selena has a new documentary out, My Mind and Me, which is available to stream on AppleTV+ starting today.
WATCH NOW
Source: Read Full Article