Dwayne Johnson seems to abide by the golden rule laid out by Jeff Goldblum's character in Jurassic Park: "When you gotta go, you gotta go." When he's not in front of the camera, The Rock is usually in a gym firing through a ludicrous muscle-building regimen. And when there's no time to find a bathroom, peeing into a water bottle is the perfect solution to get him onto the next set. Even though his exercise regimen might seem eccentric, Johnson is just one of many Hollywood action stars known for intense workouts.
Why does Dwayne Johnson pee in water bottles?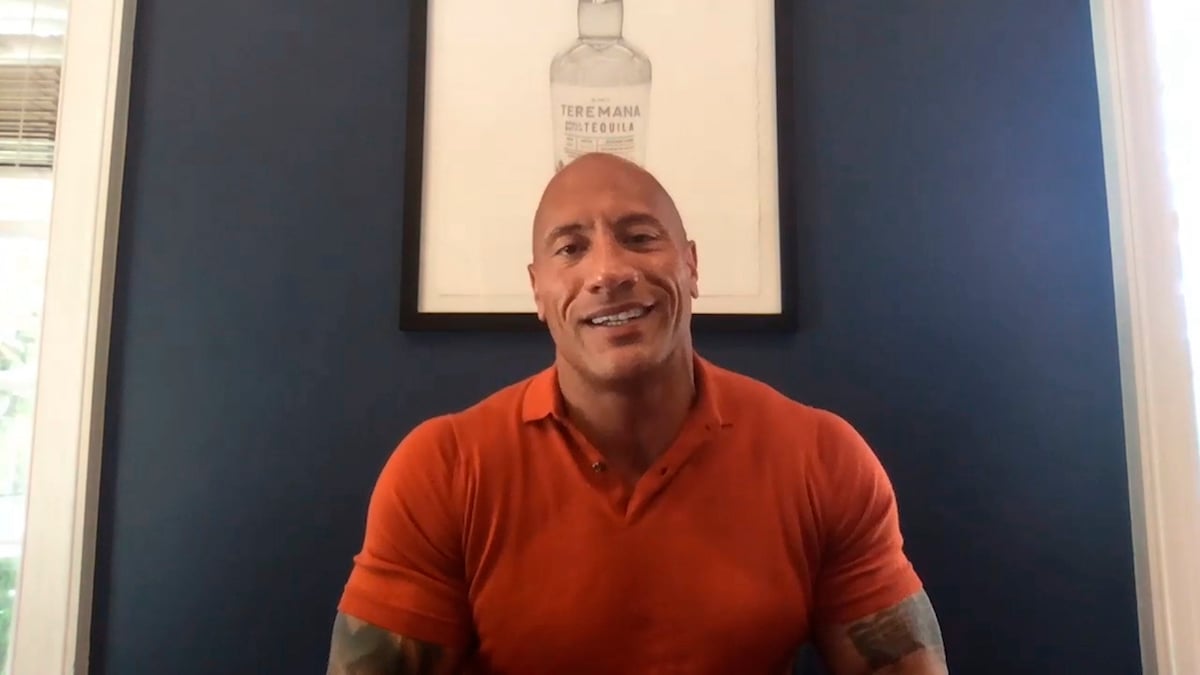 The gym seems to be a sacred space for Johnson, a former football player and pro-wrestling superstar–turned–one of the most bankable actors in Hollywood. According to Insider, Johnson's workouts typically include an eyepopping 50 sets, intense enough to scare away even the most committed fitness freak. But Johnson also has a problem: He drinks an incredible amount of water to stay hydrated and typically works out in gyms without bathrooms.
Instead of taking a break from what he calls the "iron paradise" to go bathroom hunting, Johnson urinates into old water bottles he would discard anyway. That time-saver keeps his workout on track. Considering that Johnson is doing roughly 10 times the sets recommended by Healthline to build muscle, cutting bathroom trips saves him a considerable amount of time during a given exercise routine.
From Schwarzenegger to The Rock: The life of an action superstar
When it comes to heavyweight action superstars, there is only one comparison for Dwayne Johnson. Initially a world-class bodybuilder, Arnold Schwarzenegger used his jaw-dropping physique as a springboard to Hollywood, where he became a legendary action star.
According to Rare, Schwarzenegger's workout routine during his physical prime might have even been more intense than Johnson's. Such dedication gained Schwarzenegger acclaim as a bodybuilding superstar, though he turned to movies after retiring as a seven-time Mr. Olympia champion.
Like Schwarzenegger in the 1980s and 1990s, Johnson stays in peak physical form for a long list of movie roles — from a co-starring turn in the Fast and Furious franchise to one of Disney's go-to action stars. He also recently finished filming for the DC Universe's Black Adam, sure to be one of the biggest releases of next summer. And with nearly a dozen other movies he's slated to star in or produce, it's no wonder Johnson doesn't have time for pee breaks.
Johnson has company when it comes to intense workouts
Many other actors have gone all-in on bulking up for roles in Hollywood blockbusters, even if they don't share their urination habits on Instagram as Johnson does.
GQ detailed how Chris Hemsworth needed three sessions a day to get ripped enough to play Thor. Chadwick Boseman learned four forms of martial arts to star in Black Panther. And Kumail Nanjiani had to dedicate himself in the gym to ditch his geeky persona for Eternals.
Meanwhile, Charlize Theron had eight trainers work her into impeccable shape for 2017's Atomic Blonde. The actor told Entertainment Weekly that they "basically just made me puke every single day." She even broke a couple of teeth, giving her some unintended realism for her intense fight scenes.
As with many of Hollywood's elite action stars, Johnson's workout regimen also prepares him for future opportunities. As he told Esquire, he would love to appear in a James Bond movie like his grandfather, Peter Maivia, whose villainous henchman tussled with Sean Connery in You Only Live Twice. But even though plenty of producers would love to see Johnson as a Bond villain, the actor has set higher goals: to play Bond himself. If that happens, they're gonna need a bigger tux.
Source: Read Full Article