"That's just not what God will want me to do. It's kind of degrading," said the reality star, who was baptized on her 34th birthday last May.
Blac Chyna is opening up about what inspired her decision to make drastic changes in her life — both inside and out.
In an interview with DailyMail.com, the reality star detailed how finding religion kickstarted what she's described as her "life changing journey," in which she quit OnlyFans and has been reversing her cosmetics procedures, including dissolving her face fillers and undergoing a breast and butt reduction.
The outlet also said the 34-year-old is now going by her birth name: Angela White.
Blac Chyna Goes By Birth Name 'Angela' While Showing Off New Look at Forbes Offices
Angela recently revealed that she was stepping away from OnlyFans after reportedly earning $240 million in 2021 on the NSFW platform. (However, she told DailyMail.com that she earned approximately $1 million a year, raking in $2 million in two years.)
The model said getting baptized in May 2022 was a "big part" of her decision to step away from OnlyFans.
"I'm not doing OnlyFans anymore. I'm kind of past that," Angela told DailyMail.com. "It is one of those things where I did what I needed to do at that moment because of the circumstances I was in."
"Besides, with me being baptized, that's just not what God will want me to do. It's kind of degrading," continued the "Rob & Chyna" alum, who was baptized on her 34th birthday last May.
"I think my baptism on my birthday played a big part. Everything has been kind of trickling down for me and lining up perfectly," she added. "Now I'm just going by faith. I'm not even really going by like the Blac Chyna way or the Angela way. Let me just let God lead me."
Angela — who is mom to son King Cairo, 10, and daughter Dream Kardashian, 6, — also shared that moving forward she "trust[s] God in every step" in her life, and has a Christian support group which has been for her spiritually while she makes drastic changes in her life.
"The Real Blac Chyna" star went on to add that she felt the pull toward Christianity as she wanted to "become whole."
Waiting for your permission to load the Instagram Media.
Instagram Media Unavailable
"I just got sick and tired of being sick and tired of the same repetitive things," Angela said. "I thought, 'Let me dig deep and see what it is that I'm doing wrong.' Because obviously there's something I'm not doing right, even if I think I am. Now I'm doing the right thing to the best of my ability so I can become whole."
As for those who may have negative things to say or may cast doubts about her becoming a born-again Christian, she said, "If you don't like it, then you just don't like it. But I will tell you this, there is a God. Nobody can tell you what to do with your religion or your faith or this or that."
"I hope that me coming out will enlighten a lot of people and inspire a lot of people," she added.
Throughout this month, Angela has been taking fans through her "life changing journey" on social media as she's been reversing her cosmetic procedures and returning to a more natural appearance. The mom of two recently revealed she underwent surgery to reduce her breasts and butt. She also decided to get her facial fillers removed.
While speaking to DailyMail.com, Angela described the process as "rewarding."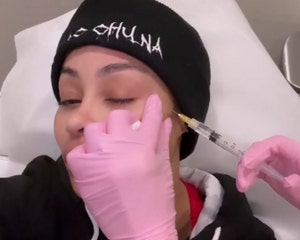 Blac Chyna Dissolves Even More Face Fillers: 'My Face Came Down Tremendously'
"Not only am I doing it for myself, but then I'm also encouraging other people that's even thinking about it," she explained, adding she was surprised by how fans reacted to her transformation on social media.
"Everybody's been really, really supportive. When I posted it, I didn't think that it was going to be so massive," Angela said, referring to the clips of herself getting her fillers removed. "Like, I posted at maybe 3:30 in the morning. And I was just healing from my surgery and thought, 'Let me just post these,' and then I went to sleep. I woke up and it had blown up but in a positive way."
"When I saw that, I'm like, 'This makes me want to even be more open and vulnerable with the people so they can see,' she added. "So that's when I documented me, dissolving in my face fillers in the lips."
Looking back at her lip fillers in particular, the star said she may have gotten too much. "It got to a point where my lips were so big, even when I would smile, you still couldn't see my teeth," she said. "Now you can see my teeth … I have teeth."
While Angela said she's "not against" cosmetics procedures, she encouraged those who are interested to do extensive research beforehand and "make sure you know exactly what you are putting into your body."
She went on to reflect on why she decided to undergo the multiple procedures and get work done in the first place, admitting that has to do with "insecurity.,"
"Basically it's being insecure," Angela said. "As women, we want to look the best and like as fake as possible and plastic and everything needs to be perfect in this and that. But that's not normal, that comes from insecurity and different things of that sort and just being in that certain kind of life and lifestyle."
"So I'm kind of done with that type of lifestyle and I just want to step into my own and own it."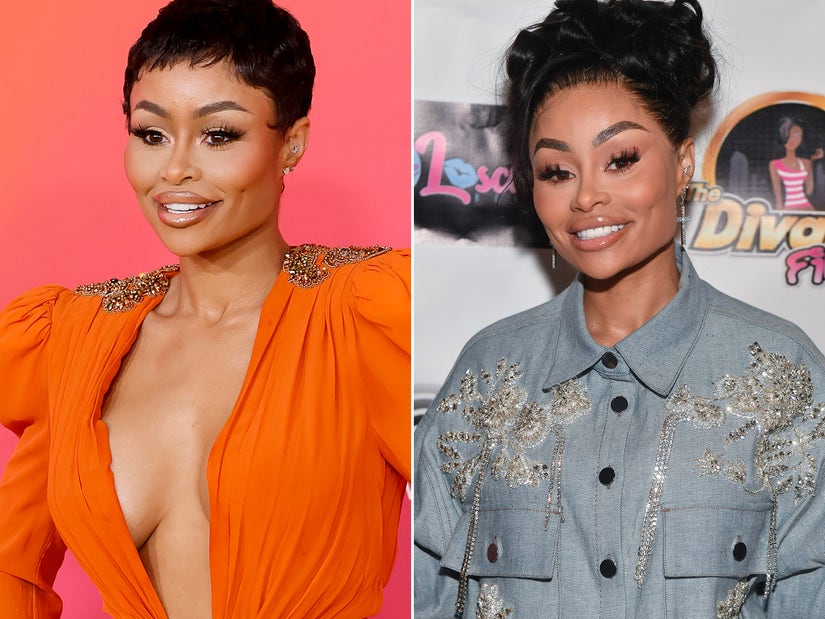 Source: Read Full Article