Taylor Swift has had several A-list BFFs over the years — from Selena Gomez to Gigi Hadid to Blake Lively, Swift's "squad" has become pretty star-studded. Friends come and go, and Swift is definitely no stranger to that fact. While Swift has established plenty of friendships with fellow celebs over the years, not all of them could withstand the test of time. 
Of all of Swift's friendships, fans were most invested in the one she established with fellow singer Lorde. The two pop stars first met in 2014, and their relationship seemed to flourish from there. During an interview on "The Tonight Show," Lorde explained Swift sent her flowers at one point, and then the two met up at a Shake Shack to get to know each other (via People). The two would later hang out together at a Grammy party, and when a stranger asked if Lorde was Swift's manager, the "Folklore" singer immediately responded "yes," thus sealing the deal on the duo's friendship.
Of course, 2014 was a long time ago, and both Swift and Lorde's careers have grown drastically since then. Has their relationship held up over the years, and as of 2021, are they still friends? Keep reading to learn more about the singers' friendship!
Lorde made some eyebrow raising comments about Taylor Swift's friend 'squad'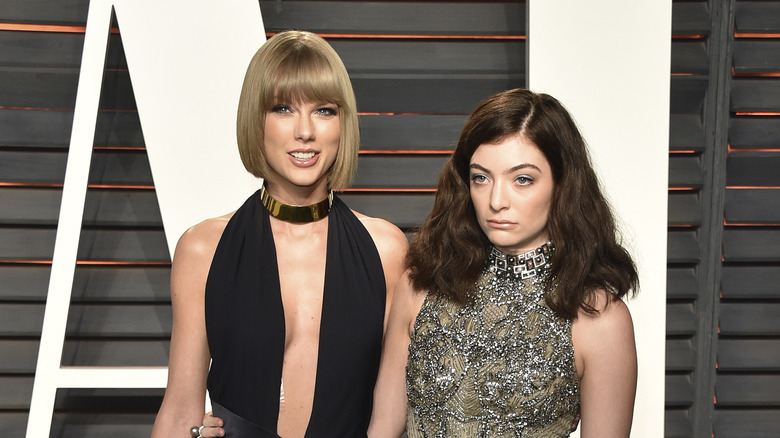 It's no secret that Taylor Swift took Lorde under her wing when the young "Royals" singer first broke onto the scene. The two maintained a friendship for years, but after a certain point, it became a bit unclear whether or not Swift and Lorde were still friends.
By 2017, Lorde seemingly referred to her friendship with Swift during an interview — but not exactly in a good way. "I don't hang out with these people at all," the New Zealand-based singer said during an interview with Australian Yahoo Affiliate "Sunrise" (via People). The "people" in question referred to Lorde's newfound famous friends, one of which fans thought was Swift. Then, the interviewer specifically asked Lorde if she was part of Swift's friend "squad," a question at which Lorde rolled her eyes and offered a cryptic response. "You know, you make friends in different places, but I think for the most part I'm not, like, calling my idols for advice necessarily."
The interview came as quite the shock to some people, though Lorde did later clarify that she wasn't trying to bash Swift in any way. "Taylor is a dear friend," Lorde explained in now-deleted tweets, via People. "I want to say one more time that Taylor has been there for me in all my dark and light moments these past five years. All of them." 
Lorde's close relationship with Jack Antonoff may have put a rift in her friendship with Taylor Swift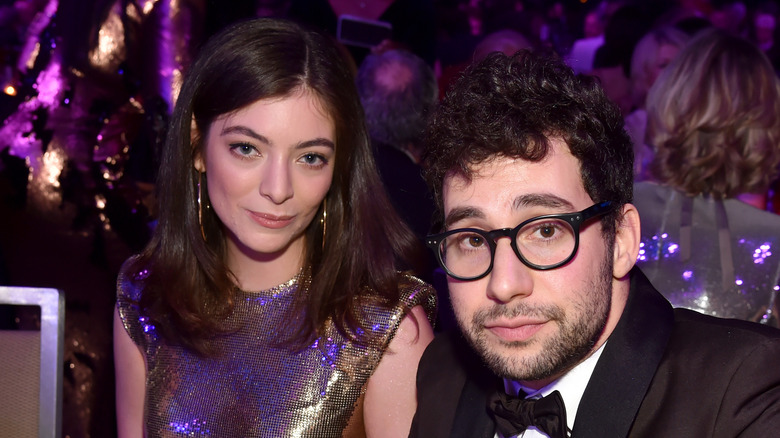 Another potential factor in Lorde and Taylor Swift's potential falling out is a common tie between the two: music producer Jack Antonoff. Antonoff has worked with both Lorde and Swift over the years, most recently collaborating on Swift's "Evermore" album and Lorde's "Solar Power." Back in 2017, however, when Lorde's "Melodrama" dropped, fans noticed just how close the singer and Antonoff got while working on the album together — to the point where many thought they were dating.
Both Lorde and Antonoff have denied dating rumors, with Antonoff referring to his relationship with Lorde as "important and sacred" but also clarifying his single status, via Spin. Nonetheless, Antonoff and Lorde did get incredibly close while working on "Melodrama," all while Antonoff was dating Lena Dunham, AKA one of Swift's close celebrity friends. Dunham and Antonoff would eventually break up in 2018, and Dunham herself would go on to address rumors that Antonoff had a fling with Lorde in an interview with The Cut — but ultimately, there didn't appear to be any hurt feelings in the long run. 
While nothing seemed to go down between Antonoff and Lorde, Swift may have distanced herself from her former friend as a sign of support for Dunham (via The Cut). Swift hasn't talked about Lorde in years, so this could be a sign that the two aren't friends anymore.
Taylor Swift may have subtly shaded Lorde a few times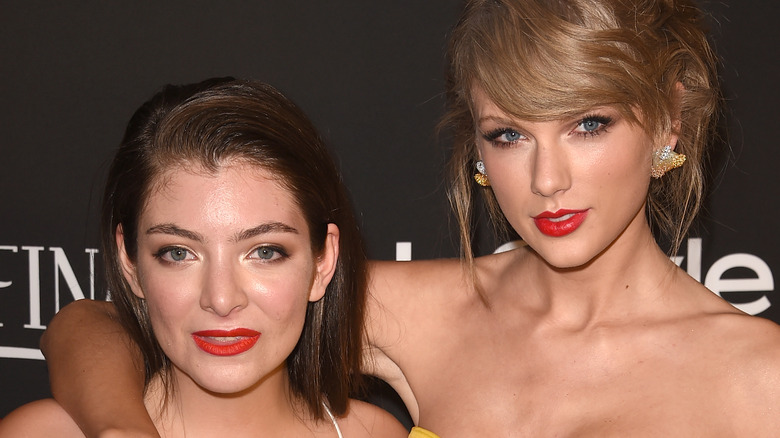 While Lorde has mentioned Taylor Swift in interviews and tweets, Swift hasn't talked much about Lorde. Of course, Swift doesn't talk much about any of her celebrity friends these days, though it's possible that she has thrown some shade at Lorde.
It all started when Swift dropped her "Look What You Made Me Do" music video in August 2017. In the video, at one point, Swift wears a T-shirt will all of her friends' names on it. One name that was notably missing was Ella, which is Lorde's real name. Was it just an oversight, or was Swift throwing shade at Lorde for her "I don't hang out with these people at all" comment?
Just a month after Swift's shady music video dropped, she may have shaded Lorde yet again. Swift tweeted a link to a Spotify playlist of her favorite songs. Selena Gomez, HAIM, and Ed Sheeran were all featured on the playlist — but Lorde notably was not. Again, was it a mere oversight or something more? Considering the fact that Swift is the queen of Easter eggs and little details, it's safe to assume that it wasn't just an oversight.
Lorde and Swift haven't talked about each other since 2017, nor have they been seen together. They may just be busy, though it seems that their friendship has fizzled significantly since it first started in 2014. 
Source: Read Full Article