Taylor Swift may have made an entire generation fall in love with music, consuming them in dreams of ideal romance, cladding them in the shroud of heartbreak too. But making such a mark on the audience didn't come so easy for the pop singer, as she's had her share of controversies for which she has been amply criticized.
Growing as an artist and businesswoman through the years of her eventful career, Swift has often been in controversial spaces — from the way she has presented a music video to, well, just being. Remember when Kanye West got on the stage at the MTV Music Awards in 2009, grabbing the mic from her hand and cutting her short? That may have just been one example of the intensity people have felt towards her, often enough to brew a controversy.
Over the years, there have been several controversies that have challenged Swift's reputation. The singer has braved them all, in her own style, drawing praises and criticisms all the same. So while the sound of sister albums "Folklore" and "Evermore" still lingers in our ears, it might just be the time to pick out that one controversy around Swift that stands above the rest. Here's more!
Did Taylor Swift steal the Folklore logo from a Black business owner?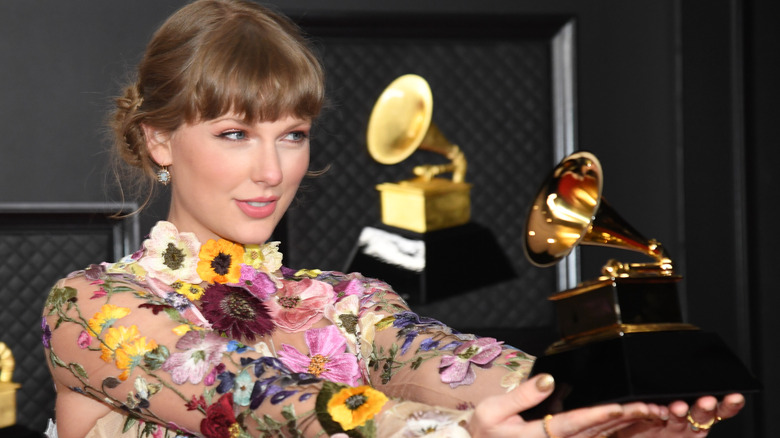 Taylor Swift leaves a long trail of controversies around her. However, this one newer controversy does manage to stand above the rest, as it deals with her work ethic and how she promotes her music and merchandise.
In July 2020, The Folklore — a showroom selling fashion from the African diaspora and Africa — accused Swift's team of ripping off the brand's logo and using it on some of the "Folklore" album merchandise. "Wait hold up. Taylor Swift, it's one thing to use the name 'Folklore,' but we're out here stealing Black women's logos too?" Founder Amira Rasool tweeted. "Based on the similarities of the design, I believe the designer of the merch ripped off my company's logo," Rasool later wrote on Instagram. "I am sharing my story to bring light to the trend of large companies/celebrities copying the work of small minority-owned business owners."
The controversy around a merchandise logo was not something Swift and her team may have wanted to entertain at that moment, especially when a new album was out. The team was quick to issue an apology. "Yesterday, we were made aware of a complaint that the specific use of the word 'the' before 'folklore album' on some of the folklore album merchandise was of concern," said a representative of Swift to ABC's "Good Morning America." Swift later tweeted that she admired Rasool's work and was happy to make a contribution to her company. All's well that ends well?
Source: Read Full Article