After sharing a hug with the Los Angeles Lakers athlete onstage, the 'Heartbreak Anniversary' crooner pleads with fans to 'make some noise' for the basketball player as a shout-out.
AceShowbiz –Giveon is so thrilled to have LeBron James at his Los Angeles concert. After the NBA star made a special guest appearance at his show, the "Heartbreak Anniversary" crooner took to social media to thank the athlete.
The Los Angeles Lakers star showed up at the R&B singer's show, which took place at The Novo, on Monday, January 3. When the latter invited the basketball player onstage, he and audience chanted, "LeBron, LeBron, LeBron."
As LeBron entered the stage, he and Giveon embraced each other. After a few chat, LeBron decided to go backstage. Giveon then asked the crowd, "Make some noise for LeBron, please," prompting fans to erupt in cheer.
LeBron later filmed Giveon's performance from backstage. Sharing the clip on Instagram Story, he gushed, "A [star] flat out. My brother @giveon, love my brother." The footage was later reposted by the musician on his own Instagram Story, writing, "Thank you to the GOAT @kingjames for coming out.. my brother 4L."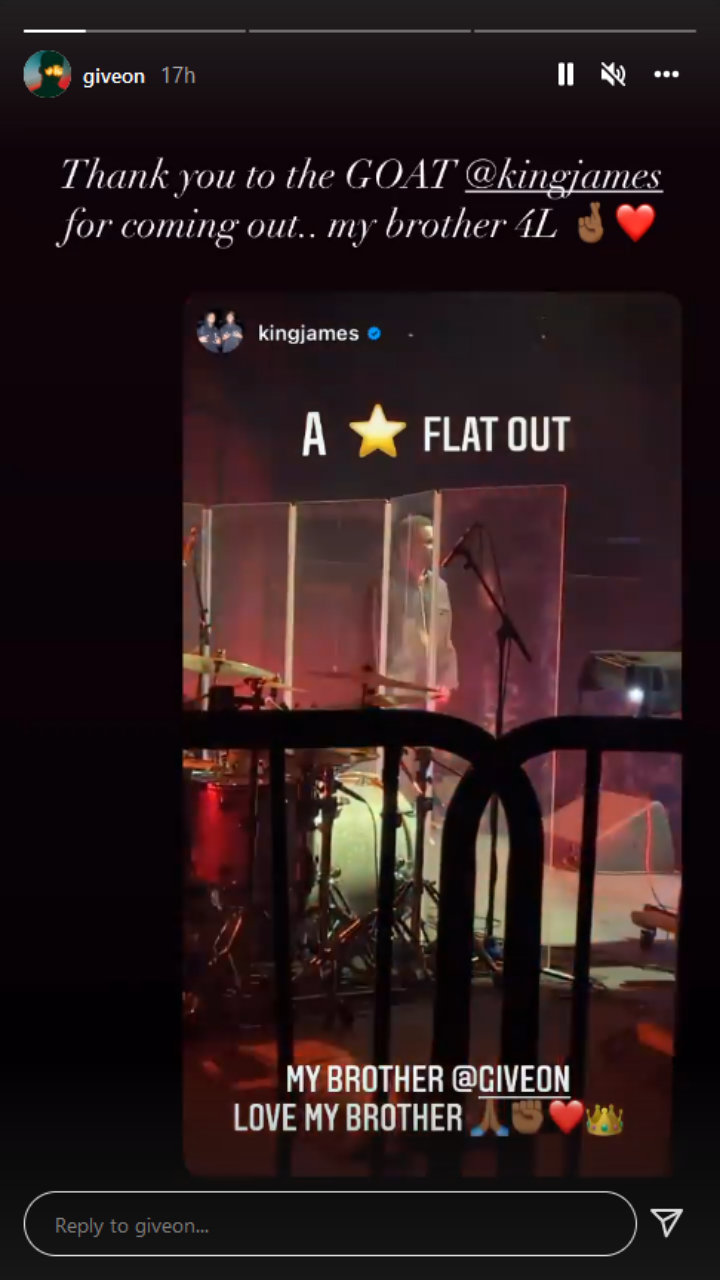 Giveon thanked LeBron James for making a special guest appearance at his concert.
On the next day, the "Like I Want You" singer shared a few photos and a video of the gig on his Instagram feed. One photo in particular showed him and LeBron having a handshake.
"i don't know if it was fireworks or gun shots… thank you LA. last night was everything i imagined it to be," the 26-year-old star wrote in the accompanying message. "shoutout my brother @kingjames 4L."
LeBron was not the only star to delight Giveon with his surprise appearance. On November 30, Drake did the same thing at his "Chicago Freestyle" collaborator's show in Toronto, Canada. Grateful of Drake's attendance, Giveon expressed his gratitude on Instagram Story.
"Can't believe my brother surprised me tonight," he exclaimed along with a photo of him hugging the Canadian hip-hop star. "Toronto! I love you guys. So much love everytime!"
Source: Read Full Article