Four months after releasing his controversial video for "MONTERO (Call Me By Your Name)," Lil Nas X has now blessed fans with another single, titled "Industry Baby" and featuring Jack Harlow. The rapper recently teased the song on Twitter, while making light of his ongoing legal battle with Nike.
"trying really hard to decide what i should wear to court on monday for the satan shoes case," Lil Nas X tweeted on July 16. "all jokes aside i can't believe i might be going to jail," he continued in another tweet. "who's going to make mildly funny tweets about being gay while i'm away." Shortly after, #FreeLilNasX became trending on social media, with fans hilariously trying to save their beloved artist from going to jail.Then, the same day as the alleged court session, Lil Nas X shared a couple of (fake) mugshot pictures, along with a teaser from his new "Industry Baby" video dropping on June 23, which saw him being sentenced to prison during the Nike vs. Lil Nas X lawsuit. 
Ahead of the song's release, Lil Nas X also shared a note on Twitter addressed to his younger self, similarly to his note before "MONTERO" released. "i know if you hear the phrase 'one hit wonder' one more time you might combust," he wrote. The lawsuit and the note both seem to have influenced his new track. Scroll on for all the details.
Lil Nas X proves his staying power on 'Industry Baby'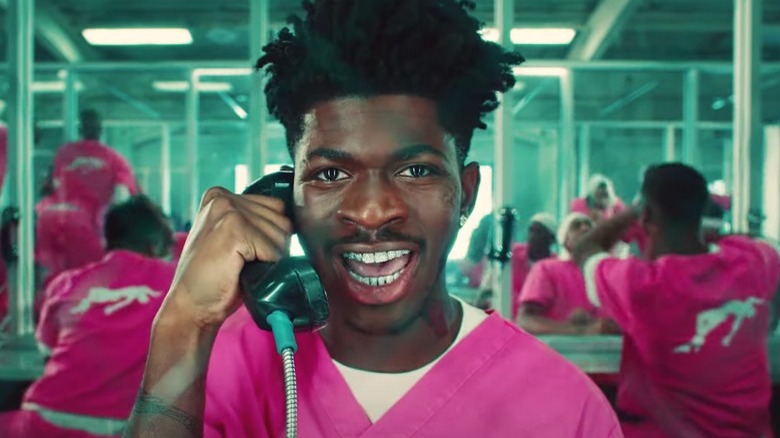 Produced by Kanye West and Take a Daytrip, "Industry Baby" sees Lil Nas X clapping back at his haters and proving his staying power. He starts by listing off his recent accomplishments, such as his Grammy wins. "Baby back, ayy, couple racks, ayy / Couple Grammys on him, couple plaques, ayy," he raps in the first verse (per Genius). On the chorus, he shrugs off his haters, rapping, "You was never really rooting for me anyway." In the second verse, meanwhile, Lil Nas X mentioned those "baby boomers" who became outraged by his video for "MONTERO," teasing them for their lack of humor. "I don't clear up rumors (Ayy), where's y'all sense of humor?" he sings. "I'm done makin' jokes 'cause they got old like baby boomers."
The official music video, which already counts over 2.2 million views on YouTube, features an imprisoned Lil Nas taking over the jail, seducing inmates, and escaping with the help of Jack Harlow, who's also featured on the song. After all the backlash "MONTERO" received, however, the rapper decided to send out a warning to viewers. "saying this in advance so y'all won't blame me," Lil Nas said on TikTok (via NME). "THE INDUSTRY BABY VIDEO IS NOT FOR YOUR KIDS!"
Source: Read Full Article