A frantic search for the boy began after his mother was found murdered in their apartment in St. Petersburg, Florida; the father of the child has been charged with two counts of first-degree murder
A boy was found in the mouth of an alligator in St. Petersburg, Florida after the body of his mother was discovered with over 100 stab wounds in their apartment the day before.
The father of the child, Thomas Mosley, 21, has been charged with two counts of first-degree murder in the deaths of 20-year-old Pashun Jeffery and two-year-old Taylen Mosley.
A frantic search for the boy began after his mother Pashun was found dead in their apartment on March 30; he was only discovered the following day in Lake Maggiore.
Alligator Kills 85-Year-Old Woman Protecting Dog In Florida
Per the arrest affidavit, Thomas Mosley "did throw or place" Taylen in the lake, which resulted in "mortal wounds."
According to court docs, Pashun held a birthday party for Mosley at her apartment on March 29. Later that night, the suspect arrived at his mother's home around 9pm with "severe lacerations to both of his hands and arms consistent with injuries caused by slippage during a knife attack," per the affidavit. Mosley was taken to a hospital for his injuries, according to Newsweek.
The following day, March 30, authorities say the victims' family came to check on Pashun and the child and discovered what appeared to be blood on the sidewalk near her residence.
Upon entering her apartment they discovered the young mother dead with "apparent cuts and stabs in excess of 100 wounds," per court docs.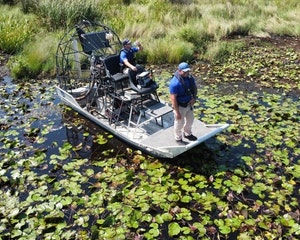 Officials Confirm Massive Alligator Ate Louisiana Man After Hurricane Ida
The affidavit says a fingerprint with blood was found on a cleaning bottle — and a Gucci shoe print, also covered in blood, was found at the scene. The boy was not at the home, prompting the search which uncovered yet another tragedy.
The local police department said on March 31 they were alerted to an alligator in Lake Maggiore that appeared to have something in its jaws. The alligator let go of Taylen's body after it was fired upon; The reptile was euthanized.
St. Petersburg Police said the local medical examiner will determine cause of death for the boy.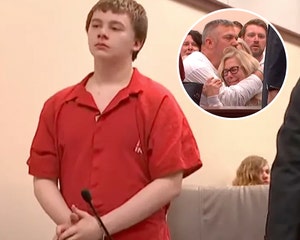 Aiden Fucci, 16, Gets Life In Prison for Murder of Tristyn Bailey, Teen Cheerleader Stabbed 114 Times
Pashun's mother, Lakita Denson, and her great aunt Theo Brickhouse-Sails shared a letter over the weekend, per Newsweek: "We especially send our gratitude to St. Petersburg police and all law enforcement working day and night in the search for Taylen and the concerned citizens who shared helpful information."
"We are heartbroken that we must begin putting them both to rest," the letter continued.
They also set up a GoFundMe to raise funds for funeral costs.
Mosley was arrested and booked on Friday night; his attorney has yet to make a statement but has been contacted by various media outlets.
Source: Read Full Article