Marilyn Monroe is often viewed as a victim of Hollywood exploitation, but the true story is more complicated. After filming 1953's Gentleman Prefer Blondes, she basically went on strike, demanded more power, set up her own production company and negotiated herself an executive producer role.
That story is one of many ideas explored in Goddess, ACMI's Winter Masterpiece exhibition due to open in April next year. Tracing the trailblazers and the rebels of the screen industry, the show pushes back against preconceptions about women in film.
Dr Britt Romstad with one of the costumes from Goddess, ACMI's upcoming show about women in film, and Marlene Dietrich on the screen.Credit:Joe Armao
"It challenges those ideas that people might have about Marilyn, a desire to expose things that we didn't know or challenge some of the things that we thought we knew, that have been perpetuated," says Dr Britt Romstad, head of visitor experience and engagement at ACMI.
The show's title itself could be construed as controversial. "The screen goddess was a marketing tool of the 1940s, it was part of an economy to sell these women on screen. We pick up that word and turn it around and have a good look at it. And it's complicated," says Romstad.
"We might associate it with a passivity, or a beige beauty, the exhibition is about looking at the ways women have challenged that and defied that. Language does have its own power and comes with cultural connotations… Sometimes a film might look like it's perpetuating certain themes but they can also subvert them."
ACMI's Goddess exhibition will explore Blaxploitation films, Marilyn Monroe's career, and the first Asian actress in Hollywood.Credit:ACMI
At the beginning of the exhibition, viewers will find a clip of Monroe singing Diamonds Are A Girl's Best Friend, in which women are literally shown as adornments to a chandelier. In the moments before Monroe's character, Lorelei, hits the stage to sing that number, her character hits out. "It's men like you who have made me the way I am and if you loved me at all you'd feel sorry for the troubles I've been through, instead of holding them against me," she says.
Mae West is one of the actors featured in Goddess who really challenged and cut through all of the stereotypes, says Romstad. "She was older, she didn't look the way a Hollywood goddess was meant to look, she was incredibly popular and managed to carve out a role for herself."
There's a piece in the "Dangerous Women" section of the show called "The time that remains" by video artists Sodajerk, made using clips from their films in which Joan Crawford and Bette Davis are haunted by their younger selves. When she was 54, Davis placed a "Work Wanted" ad in Variety magazine in 1962, saying: "Thirty years experience as an actress in Motion Pictures … wants steady employment in Hollywood."
Offering a fresh perspective on cinema's most formidable female characters, the exhibition hails women as bold, defiant and complex, positioning them as active agents in their representation.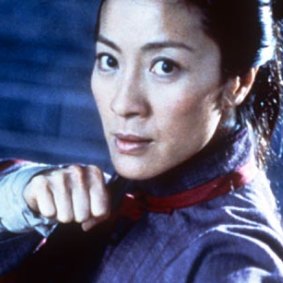 Michelle Yeoh in 'Crouching Tiger, Hidden Dragon'.
Costumes and treasures on display include Mae West's heels in Belle of the Nineties, Michelle Yeoh's silks from Crouching Tiger, Hidden Dragon and Glenn Close's Cruella De Vil dress from 102 Dalmatians, as well as the knockout flesh-coloured dress worn by Monroe in Some Like It Hot, designed by Orry Kelly. The costumes worn by Geena Davis and Susan Sarandon in 1991's Thelma & Louise are another highlight.
As Romstad says, it's a confronting and challenging examination of how art has impacted society and how it reflects shifts in the real world: "I love that idea of messing up what we believe and understand about the past."
Goddess runs from April 6 to October 1, 2023.
A cultural guide to going out and loving your city. Sign up to our Culture Fix newsletter here.
Most Viewed in Culture
From our partners
Source: Read Full Article