Who you gonna call? This time around, it's Kumail Nanjiani and Patton Oswalt!
They ain't afraid of no ghosts!
Comedians Patton Oswalt and Kumail Nanjiani are set to star in the sequel to 2021's "Ghostbusters: Afterlife," which is set to release in December 2023.
After the casting news made headlines on Friday, Nanjiani went to Twitter to share his excitement for the film.
"Ghostbusters was my first favorite movie," shared "The Big Sick" star. "I remember exactly how I felt the first time I watched it. Horror and comedy in one movie? This movie was made for me, and I watched it over and over."
He also added his praise for the new film's writers, saying, "The script is unbelievably good. I can't believe I get to be a part of this world."
Among the addition of Oswalt and Nanjiani, James Acaster and "Gossip Girl" star Emily Alyn Lind are also joining the sequel. According to Deadline, Gil Kenan will direct the movie, while the previous director Jason Reitman will be a producer and writer on the film.
Reitman, of course, is the son of Ivan Reitman, who directed the original two "Ghostbusters" movies.
"Afterlife" was a reboot centering on the grandchildren of Egon Spengler (the late Harold Ramis), who not only inherited his home, but also the Ecto-1, proton packs and a mission to stop the evil Gozer. Mckenna Grace and Finn Wolfhard played the kids in the middle of it all, while Carrie Coon and Paul Rudd also starred.
OG Ghostbusters Bill Murray, Dan Aykroyd and Ernie Hudson also appeared in the film, as did stars Sigourney Weaver and Annie Potts. It's unclear whether they'll be back in the next film, which is reportedly returning to the franchise's New York roots and iconic firehouse.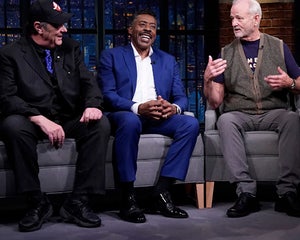 OG Ghostbusters Aykroyd, Murray and Hudson Take Over NBC Late Night to Talk 'Afterlife'
Source: Read Full Article