His lawyers call it an "accident," while prosecutors say the judge fired at his wife after she said, "Why don't you point a real gun at me?" — and then texted coworkers, "I just shot my wife. I won't be in tomorrow."
A judge from Southern California has been charged with the murder of his wife.
Orange County Superior Court Judge Jeffrey Ferguson, 72, was arrested last week for the shooting death of his wife Sheryl. He was released the next day after posting $1 million bail, before the Orange County Superior Court announced Friday he has since been charged with one felony count of murder, one felony enhancement of personal use of a firearm, and one felony enhancement of discharge of a firearm causing great bodily injury and death.
According to paperwork filed by prosecutors on Thursday night (via the LA Times), the two were out to dinner at a restaurant on August 3 when they started arguing. During the argument, Ferguson allegedly made "a hand gesture indicative of pointing a gun at her."
Upon returning to their Anaheim Hills home, the fight continued — and Sheryl allegedly said something like, "Why don't you point a real gun at me?" to her husband. He's accused of then pulling a Glock .40 from his ankle holster, before shooting her in the chest; the bullet reportedly exited through her back and hit the wall behind her.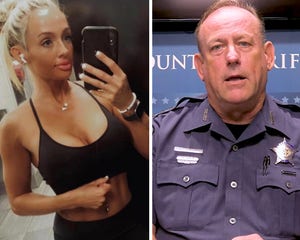 Sheriff Vows to Find 'Heinous Coward' Who Killed Rachel Morin, Confirms Boyfriend Has Been Interviewed
The couple's son then called 9-1-1 to report the shooting, before Ferguson himself did the same — but wouldn't say whether he was the one who shot her, say prosecutors. The docs note Ferguson smelled of alcohol when authorities arrived; when a sample of his blood taken seven hours later was tested, it was below the legal limit. Prosecutors say he also allegedly asked officers to shoot him, before saying to police, "What an assh–e I am," "Oh, man, I can't believe I did this," and "I guess I'm done for a while."
He also allegedly texted his court bailiff and clerk saying, "I just lost it. I just shot my wife. I won't be in tomorrow. I will be in custody. I'm so sorry."
Though his arraignment was initially set for September 1, the DA has asked for it to be advanced to this coming Tuesday instead, citing "concerns."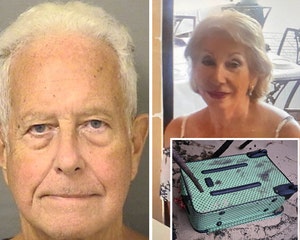 Husband Arrested After Wife's Dismembered Remains Found In Three Separate Suitcases
Among said concerns, according to a press release on Friday, are the 47 weapons and more than 26,000 rounds of ammunition were found during a search of his home; one rifle registered to his name also remains unaccounted for.
The DA also asked the court to order Ferguson to surrender his passport and concealed carry permit, wear an ankle monitor, have limited contact with his son and avoid alcohol, anywhere alcohol is sold, firearms and airports altogether.
Attorneys for Ferguson released a short statement, simply calling the incident "a tragedy for the entire Ferguson family" — while adding, "It was an accident and nothing more."
If convicted on all counts, he faces a maximum sentence of 40 years to life.
Source: Read Full Article