They just can't help themselves, can they?
We are, of course, talking about celebrities who inflame the masses by weighing in on matters of global importance.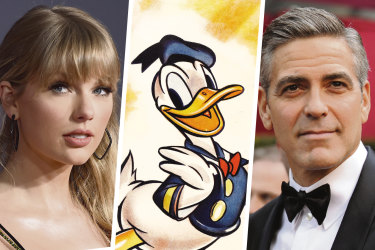 Which one of these doesn't belong? Donald Duck, centre, has been far more effective at advocating for cultural change than fellow activists, from left, Taylor Swift and George Clooney. Credit:The Age
Singer Bette Midler was the latest example when she last week was accused of being transphobic after tweeting that women become "stripped" of their name and "erased" whenever people use terms like "birthing people" and "menstruators". "I thought you were an ally to queer folks but I guess queers like me don't count to you," wrote one person on Twitter in response, echoing the thoughts of countless others including best-selling American author Roxane Gay and local columnist Benjamin Law.
One has to wonder why celebrities do it, considering Hollywood is littered with stars whose careers and reputations have been left in ruins after speaking out for their causes. They might no longer be blacklisted and left on Hollywood's so-called "poverty row", as they were in the 1940s during the communist purge of the industry. But one only has to look at what's happened to JK Rowling, Leonardo DiCaprio – whose climate advocacy has made him the butt of many jokes – and the ill-advised stars of Gal Gadot's widely pilloried Imagine video, to question whether they get what they are looking for. ("Just seen the celeb Imagine video and now coronavirus no longer scares me," wrote one person on Twitter about Gadot's video, which was labelled "peak cringe" and which the star later admitted was "in poor taste".)
But, says culture expert Dr Elaine Jing Zhao, our suffering – and arguably theirs – is not without gain. Well, for us, at least.
"If a celebrity comes out, and says, 'We are all in this together', but actually, we're not, that really highlights the issue of social inequality, which might be an unintended consequence of celebrity involvement, or their advocacy. But it's not a bad thing," says Zhao, a senior lecturer at The University of NSW, of the Imagine video. "Even if it doesn't cause immediate impact, it has already triggered debates around certain issues. And this in itself is a very positive thing."
Just how authentic a celebrity is in their advocacy is crucial though, says culture expert Lauren Rosewarne.
"George Clooney did some activism around Darfur; his father's a journalist, and it felt like he'd done his research," says Rosewarne. So he's likely to have better success getting his cause taken up in the media in comparison with Madonna, who randomly put a Palestinian flag and an Israeli flag on two of her backup dancers at a concert, in an apparent bid for peace in the region, she says. "When celebrities do it [like that], where it looks like it's about a self-aggrandisement and bolstering their brand's relevance, that's when I feel it looks weak," she says.
Still, she questions what measurable outcomes can result from celebrity advocacy.
"I saw this week a whole lot of celebrities have been fundraising for family planning-type charities as a response to [the overturning] of Roe vs Wade," she says. "Yes, that might get some sex education and contraceptives into the arms or mouths of people who need them, but it doesn't give that constitutional right to access abortion in every state."
It might be an improvement from the 1990s, when celebrities were arguably more reticent to take a political stance, for fear of harming their career. "Michael Jordan once said the reason he never commented on politics was because Republicans buy sneakers too," says Rosewarne of the famous basketball player and face of Nike's Air Jordan sneakers, who reportedly earns USD$150 million per year from the deal. But that's largely a product of our social media age, as fans now demand that their stars take a stance on social issues.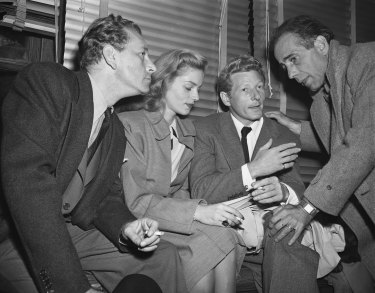 Celebrities including Lauren Bacall (second from left) and Humphrey Bogart (right) flew to Washington in 1947 to protest the American congressional committee that was then persecuting communists in Hollywood.Credit:Getty
"Taylor Swift is a good example of this," says Rosewarne, referring to the pop star who was noticeably silent on all political matters until she became derided for it in 2018 by Nine Inch Nails singer Trent Reznor, among others. She quickly became a vocal opponent, on Twitter, of Donald Trump.
So, will we ever be rid of such "inauthentic", or ineffectual celebrity commentary?
Don't hold your breath, says film expert Bruce Isaacs.
"There's always been an intersection between politics and stardom, it goes all the way back to the Hollywood studio star system," says Isaacs, a film professor at The University of Sydney, noting, for instance, John Wayne's foray into making pro-war films like The Green Berets. "He wanted to fly in the face of Jane Fonda, who had been going to North Vietnam and sitting on tanks with the Viet Cong [to protest the Vietnam war]," he says, adding that, later, filmmakers like Sidney Lumet, with Dog Day Afternoon, and Alan Pakula, with All The President's Men, made, respectively, issues like queer representation and Watergate matters of mainstream public discussion.
And there's a long history of politicians using the film industry for its purposes. The American Office of War Information created a unit dedicated entirely to Hollywood, during World War II, in order to review scripts and revise or delete anything that either portrayed the US unfavourably, or included material that made Americans seem anti-war. And the CIA (Central Intelligence Agency) secretly purchased the film rights to George Orwell's Animal Farm, so it could dramatically reverse the book's ending, for the 1954 film. As a result, in the film, the pigs, who represented communist masters, were overthrown by the other animals on the farm. This was, says researchers, a bid to inspire revolution against the communists in Eastern Bloc countries against their communist leaders.
But, the big question is: to what end?
It's impossible, say experts, to say how one factor impacts our wider culture.
But one of the clearest signals of a celebrity creating tangible – and crucial – political and social change, is arguably Donald Duck.
"Prior to The New Spirit, most Americans hadn't had to pay income taxes," says American Studies Associate Professor David Smith. The 1943 Walt Disney film starring the cartoon quacking duck, who pratfalls while chatting with an anthropomorphised radio, which explains that it just takes a "simple" form to pay "taxes to beat the Axis".
The film was commissioned by the American government to convince about 100 million Americans to pay income tax so that the country could fund World War II, says Smith who teaches at The University of Sydney.
"There's no way they could have forced the compliance [from the public], what you need is to actually persuade people to do it," says Smith. "And the best way for a ruler to get people to do anything, no matter what kind of ruler it is, whether it's a monarch or a democratically-elected president, is to convince them that your commands are legitimate… and that everyone else is doing it as well, that the burden is falling fairly on people."
Using Donald Duck – then one of the biggest stars – to deliver the message was "a stroke of genius", says Smith.
"The thing about cinema at that time is that everyone would go out and watch it together," says Smith, noting that tens of millions of Americans went to the movies each week at the time. "So everyone's probably looking at each other, going 'Oh ok, yes we should be paying our taxes, and there's this sort of sense of accountability and responsibility'," he says of the film.
According to Walt Disney, at least, it worked. He testified about the film's effectiveness in front of the House Un-American Activities committee, which was part of an attempted purge of communism in Hollywood in the late 1940s and into 1950.
"I made the film and after the film had its run, the Gallup poll organisation polled the public and the findings were that 29 per cent of the people admitted that it had influenced them in getting their taxes in early and giving them a picture of what taxes will do."
Make the most of your health, relationships, fitness and nutrition with our Live Well newsletter. Get it in your inbox every Monday.
Most Viewed in Lifestyle
From our partners
Source: Read Full Article