Sheriffs said Sunday they have "zero" possible suspects after finding a body, also warning those following the case "to be careful in what they share" and speculate on social media.
After police recovered the body of a woman they believe was reported missing by her boyfriend, he took to Facebook to declare his innocence.
The search for Rachel Morin — a mother of five from Bel Air, Maryland — began Saturday night, August 6, after she was reported missing by her boyfriend. According to deputies, he said she went to a nearby trail for a walk around 6pm, telling police that while her car was at the trail head, she was not.
The Harford County Sheriff's Office began what they called an "extensive" search for her at that point, also putting out a notice to the public asking for assistance in locating Morin. On Sunday, around 1pm, they then received a 911 call to report a female's body had been located by the trail.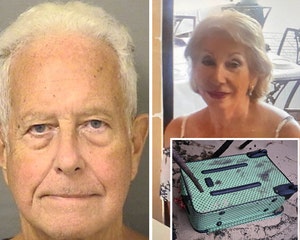 Husband Arrested After Wife's Dismembered Remains Found In Three Separate Suitcases
"While we firmly believe this is the body of Rachel Morin, that final determination belongs with the medical examiner and that has not happened yet," Sheriff Jeffrey Gahler explained during a press conference last night.
He added that the case went from a missing person to a homicide after recovering her body. While he was hesitant to reveal what they found at the scene, he said there were "indicators" of murder and detectives "have no doubt" they're "sadly" dealing with a homicide case.
Stating that the trail on which the body was found was "always known to be a pretty safe place," Gahler added that while he couldn't say there was no longer a threat to the community, it would be reopened. That being said, he still urged the public to exercise caution about wearing earbuds and taking "predictable routines" on walks, while also suggesting to hit the trails with a buddy or possibly a whistle. He also said there would be an increased police presence in the area while the case is still under investigation.
"Detectives continue to work the case as aggressively as we possibly can," he continued, saying that, "at this point in time, there is not a suspect." He later reiterated, "There's nobody that I would put and say this person is a possible suspect, zero."
After noting how much attention the office's notice to the public about Morin's disappearance generated, he also cautioned those following the case to "be careful in what they share in their comments and make sure it's factual."
Waiting for your permission to load the Facebook Post.
Facebook Post Unavailable
While authorities stated during the press conference that they had no possible suspects on Sunday, many went to the Facebook page of Morin's boyfriend to speculate about his possible involvement in the comments.
According to a post to Morin's Facebook page on August 3, she has been dating Richard Tobin for at least a few weeks. Her post at the time was the first one about him, writing, "Only started taking pics few weeks ago.. but these are a few of my favorites. From the beach to the mountains."
In the comments, he wrote, "Looking gorgeous babe." When she responded, "thank you handsome," he added, "thanks baby."
On August 1, Morin also changed his relationship status to say the two were dating (below). In the comments was one from Rachel's own brother reading, "Lucky guy! 🙂 Be good to her 🔪🔪🔪". After Tobin replied, "yes sir," her brother added, "Thank you! I'm happy if she's happy. Wish you both well."
Since then, the post has been flooded with comments from people who don't appear to know the couple at all and only landed on his page because of the case. At the time of publishing, the post had 430 comments — some speculating about his possible involvement, others warning commenters against doing just that — with Tobin now limiting who's able to leave a message on it.
He also commented as well, writing, "I love Rachel, I would never do anything to her, let the family and I grieve. Yes I have a past but I also have 15 months clean and have changed as a person. Please."
His comment came about an hour before the press conference last night.
Morin's sister, meanwhile, has started a GoFundMe to raise money for her funeral, as well as a "large celebration of life."
"There was no life insurance in place," she wrote. "This was not an accidentally death, and she did not go willingly and she deserves a funeral worthy of her her beauty."
"If there are any remaining funds they will go towards things her 5 children may need," she added. The fundraiser has so far raised $28,000 of its $50,000 goal.
Source: Read Full Article