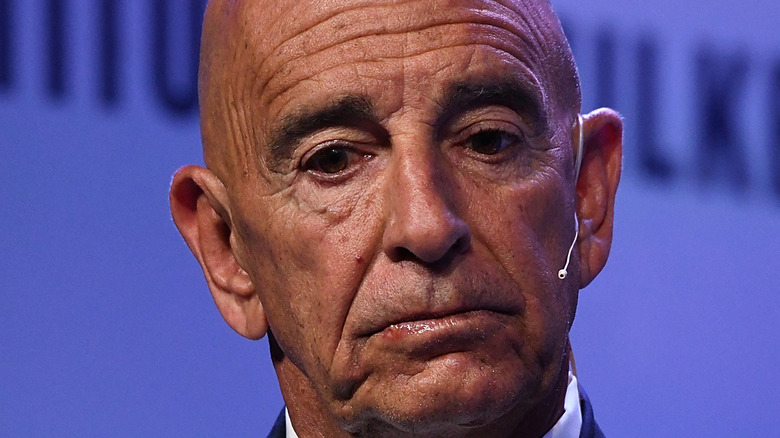 He brought in more than $100 million for former President Donald Trump, first as a fundraiser and then as the head of Trump's inaugural committee. And while he had been offered a cabinet position, he told Trump that he preferred to play the role of "Trump whisperer in private, and Trump explainer in public" (via The Washington Post). 
Today, Los Angeles billionaire investor Tom Barrack faces criminal charges for acting as an unregistered foreign agent who tried to influence U.S. policy. He's also being accused of making false statements and obstructing justice. Because he is considered a serious flight risk, Barrack has been denied bail and is being detained before a hearing scheduled for Monday (via CNBC).
Barrack is just the latest Trump associate to join a growing list of individuals who have either served jail time or been indicted. That list includes Elliott Broidy, who conducted a lobbying campaign for millions of dollars; Paul Manafort, who pleaded guilty to charges of conspiracy and obstructing justice by tampering with witnesses (he was later pardoned); and Michael Cohen, Trump's former lawyer who has used his newfound notoriety to speak out against his former boss (via CNN). Keep reading to learn more about Tom Barrack.
Tom Barrack's grandfather was a Syrian immigrant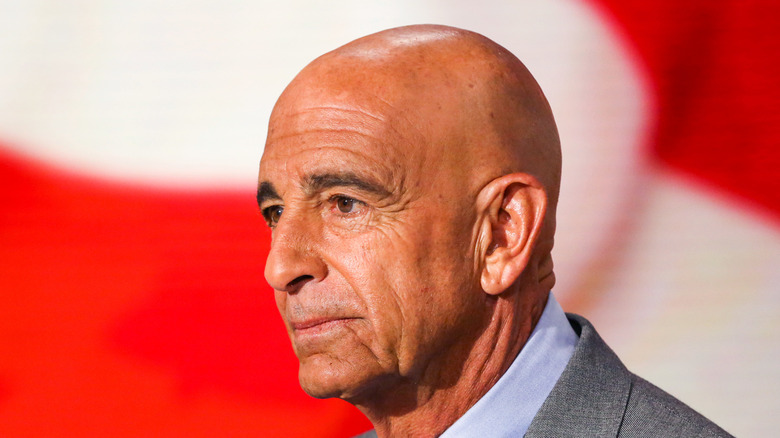 Tom Barrack is the product of the great American immigration story. His grandfather was a Syrian immigrant who moved to the United States, and his father ran a small grocery store in Southern California, a stone's throw away from MGM Studios (via The Washington Post). 
Barrack decided to go to law school, and, after he graduated, the ability to speak Arabic brought him to Saudi Arabia in 1972. While there, he got to know more about the community through a squash partner who turned out to be the son of the king of Saudi Arabia. It wasn't long before he was hired to become the American representative for the Saudi princes. It was also during this time that he met with another person who would eventually become part of former President Donald Trump's world: a businessman named Paul Manafort who, at the time, was affiliated with a Saudi Arabian construction company. 
By 1979, Barrack's work with the Saudi princes allowed him to earn enough to buy a ranch near former President Ronald Reagan's home in California. It also gave him the opportunity to spend time with the actor who was destined to become president. In fact, it's thanks to Reagan that Barrack got a taste of government work: He served briefly as deputy undersecretary for that administration's interior secretary, James Watt.
Tom Barrack helped Donald Trump acquire the Plaza Hotel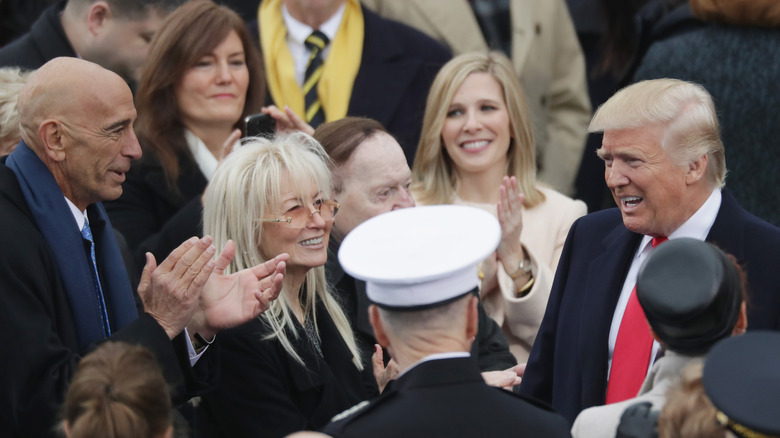 Tom Barrack's association with former President Donald Trump began in the late 1980s, when Trump reached out to the Bass family, who had a share in Alexander's department store. During that time, Barrack was working with the Basses, and Trump spoke to him about purchasing shares in the store. Later, Barrack crossed paths with Trump again, when the latter decided to buy the Plaza Hotel for $410 million in cash — a decision that Trump appeared to regret later, particularly since he had to give up the Plaza when he went into bankruptcy (via The Washington Post).
Barrack set up his own company, Colony Capital, in 1991 and specialized in buying up financially troubled real estate assets. His portfolio expanded to incorporate hospitality and entertainment establishments such as hotels, resorts, vineyards, and casinos. According to ABC, he even has a share in Neverland Ranch, which used to belong to the late singer Michael Jackson. 
When Trump ran into financial problems in 1994, Barrack was asked to help out. And when the 2007 financial crisis came about, Barrack's ability to identify and purchase distressed property and debt came in handy as he was able to support a real estate project that carried a $70 million debt. The project — an office tower in New York City — was owned by Trump's now-son-in-law, Jared Kushner.
Tom Barrack's arrest could open doors to other issues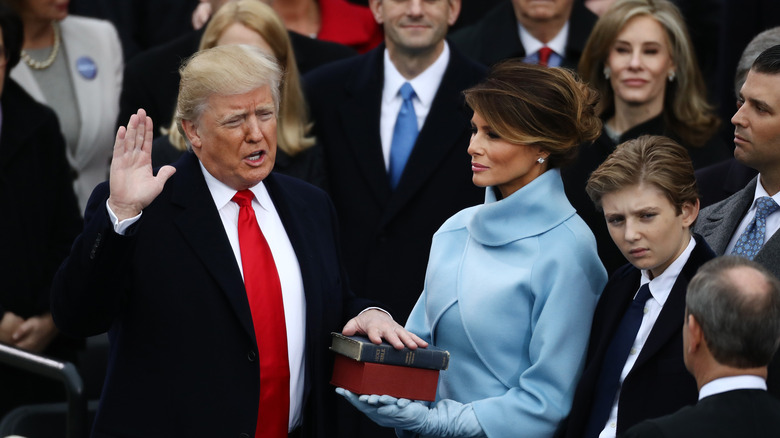 Tom Barrack wasn't just one of former President Donald Trump's closest friends — he is also one of Trump's most aggressive fundraisers. While ABC says that Barrack donated $415,000 to Trump Victory, he claims to have raised a further $32 million for the super PAC that supported Trump's campaign. As the former president's inauguration celebration chairman, Barrack also brought in $107 million to pay for the festivities in 2017 — which brings us to where we are today.
Barrack is said to have used his influence with Trump to lobby on behalf of the United Arab Emirates. Not only did he meet with senior leaders from Saudi Arabia and the UAE, but he also reportedly offered them information on the Trump administration that could only have been obtained through private sources. At the same time, he advised American officials on Middle East policy and pushed to be named special envoy to that region (via CNBC).
When news of Barrack's arrest was made public, Stephanie Winston Wolkoff, who authored a tell-all book about her relationship with Melania Trump, tweeted: "Tom Barrack is Donald's closest ally and advisor. His arrest is very significant. The Family has a lot to worry about." 
It will be interesting to see what investigations uncover next.
Source: Read Full Article