Playing host for the holidays can call for a lot of things: a frantic cleaning spree; an exciting excuse to bust out your crafting supplies; motivation for your grandma to finally reveal the secret ingredient for her apple pie. But one thing it doesn't require? A reason to overhaul your entire guest bedroom for overnight guests. Functional and refined furniture pieces are obviously important, but it's the little, and often overlooked, details that help create a joyful and memorable experience for your guests: a calming scent, upgraded bedding, fresh botanicals. Ahead, find tips for all the small but mighty ways to get your space ready for guests this season with the help of Ashley, the style leader for the home with a variety of premium designs for every room that you can shop in store or online.
Indoor plants don't just look good, they do good, too. Not only can they help liven up a space with color and texture, but they can also bring a soothing element to help boost your mood and reduce stress. And if you go the faux-botanical route, you can achieve the lush, lived-in look minus all the upkeep.
Try peppering a few plants of varying sizes throughout your space, focusing on dark or unused corners or empty surface areas. A taller floor plant can brighten up that awkward space next to a bedside table, for instance, while a smaller plant easily works on a dresser or bathroom counter.
30-inch Fig in a Handle Basket

$49
from Ashley

Buy Now

LCG Florals 15 Inch Artificial Taro in Textured Cement Pot

$48
from Ashley

Buy Now

5-foot Bird of Paradise in Pot

$97
from Ashley

Buy Now

19-inch Phoenix Palm in Deco White Ceramic Pot

$45
from Ashley

Buy Now
Guest bedrooms so often get the afterthought treatment — leftover sheets, hand-me-down pillows, spare furniture that couldn't quite find a home in another room — but what if they didn't? What if you treated your guests to an experience that rivaled your own in the primary bedroom? Now there's a novel idea. And the key is the bedding.
A comforter set in cotton is soft and breathable (and ideal for any season) and in calming hues can help ground the room — and your guests. Think about playing with texture, too, for adding dimension. If the sheets are cotton, you could bring in a throw pillow in a plush faux fur or a throw blanket in wool or cashmere, or even opt for a bed frame upholstered in a linen-like fabric. Of course, good bedding wouldn't be anything without the foundation of a good mattress. Consider a hybrid option like the Gruve mattress from Ashley Sleep to appeal to both the foam and the innerspring lovers.
Pro tip: Ever wondered how beds always look extra fluffy in magazine or retail photos? The stylist trick is to place two duvets inside one comforter cover to help achieve volume. The added warmth is a bonus!
Reidler Queen Comforter Set

$220
from Ashley

Buy Now

Himena Pillow

$30
from Ashley

Buy Now

Langford Queen Upholstered Bed

$1,680
from Ashley

Buy Now

Gariland Throw

$40
from Ashley

Buy Now

Mayda Queen Comforter Set

$190
from Ashley

Buy Now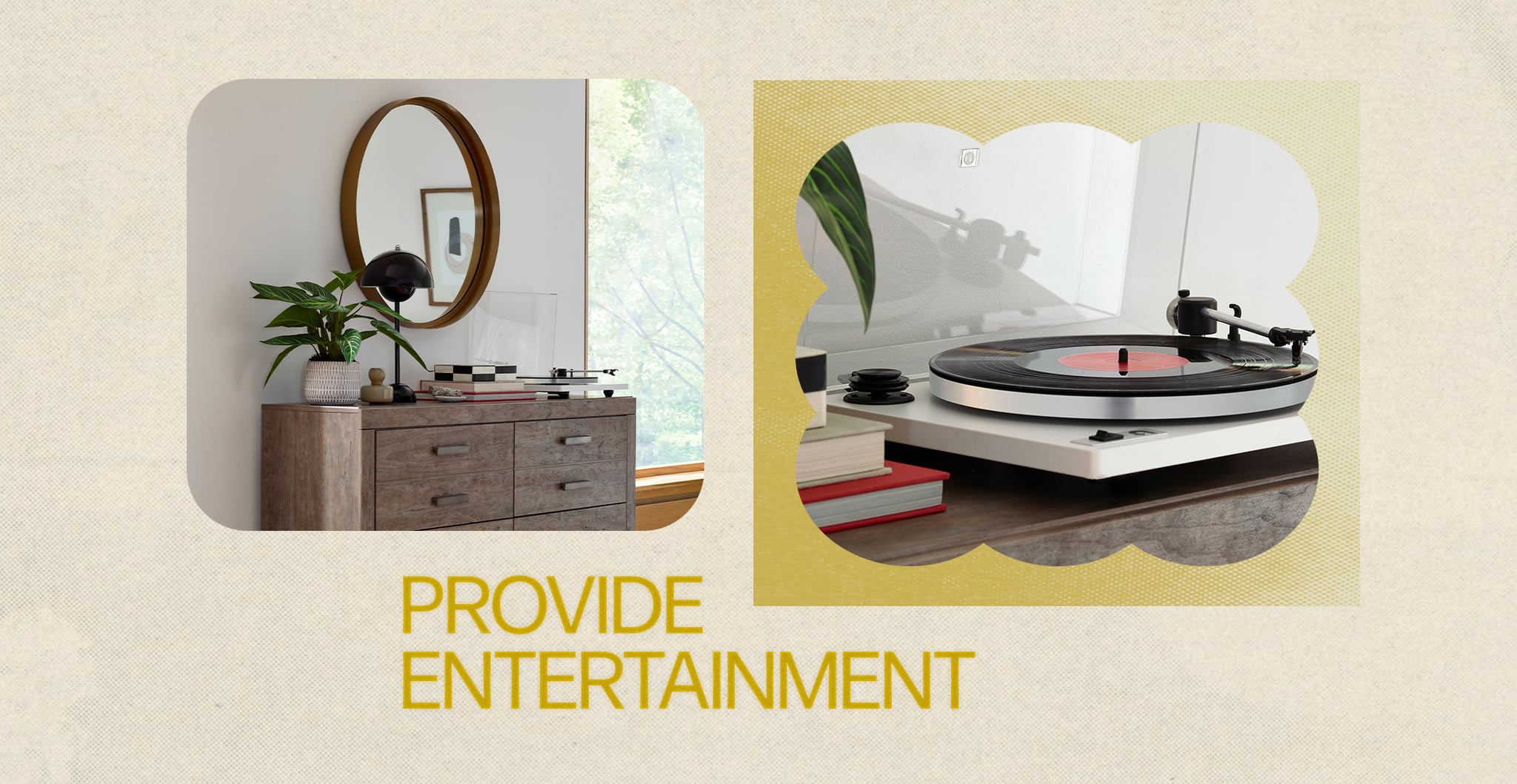 A good host anticipates what guests need. A great host anticipates what guests don't know they need. These days, it may seem like the WiFi info is all people care about, but stocking your room with a few thoughtful additions can help your visitors feel as if you personally curated an experience for them to explore and discover, rather than simply providing a place for them to crash. Lay out some books or magazines on the dresser, maybe a record player and a few select albums or perhaps even a map of the local area highlighting your favorite spots.
It goes without saying that your guests can't be entertained if their basic needs aren't met, so in addition to some entertainment options, be sure to include a basket of necessities (phone chargers, a first-aid kit, cleansing wipes, etc.). Guests feel most comfortable when they don't need to come to you for anything.
Culverbach 6 Drawer Dresser

$430
from Ashley

Buy Now

Elanah Accent Mirror

$170
from Ashley

Buy Now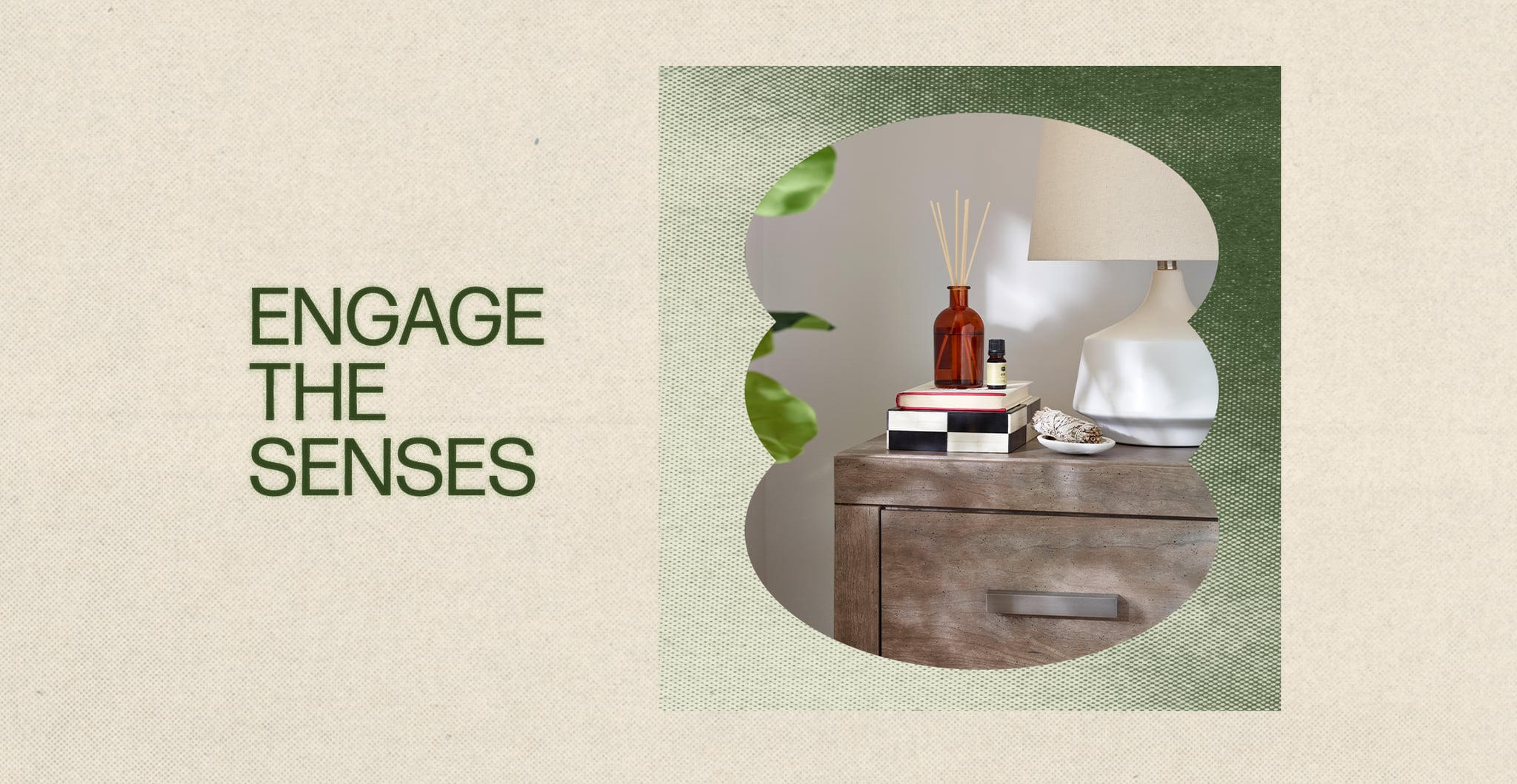 Remember how introducing soft textures and calming colors through bedding can help ground the space? Take that same concept, but now apply it to the rest of the room and with the other senses. The idea is to create an ambience that fully immerses your guests into the space. Whether you're going for bright or peaceful, use lighting and scents to your advantage to help set the mood.
For example, the former could be conveyed through colorful artwork and a zesty candle, while soft, filtered lighting via shades or well-placed lamps and relaxing essential oils works for the latter. With a space so warm and welcoming, your guests won't want to leave.
Safavieh Gourd Table Lamp (Set of 2)

$166
from Ashley

Buy Now

Culverbach Nightstand

$200
from Ashley

Buy Now
Source: Read Full Article