Thirty years ago, one placeholder pink blob turned into an iconic video game hero. Yes, we're talking about Kirby, the star of one of Nintendo's most popular franchises — right up there with Super Mario and The Legend of Zelda. Fans have come to love Kirby's adorable puffball appearance, but his famous features were almost entirely accidental. Here's how Kirby came to be.
Nintendo celebrates the 30th anniversary of Kirby's debut in 'Kirby's Dream Land' this year
2022 marks a milestone birthday for Kirby — 30 years old. In 1992, Masahiro Sakurai, the creator behind the Super Smash Bros. series, was tasked with designing a simple platformer that anyone could play on the original Game Boy. He came up with Kirby's Dream Land, a side-scrolling action platformer with only five levels. Players moved Kirby from left to right through a series of stages that led to boss battles.
Kirby's Dream Land quickly turned into a huge success. It sold more than 1 million copies within a year, and that number has since grown to more than 5 million copies, according to HackerNoon.
Kirby went on to star in dozens of games across different genres, including platformers, racing, puzzle, and more. In addition to his unique appearance, Kirby has become famous for his copy abilities, which allow him to copy the skills of his enemies.
Kirby was never meant to be a simple pink blob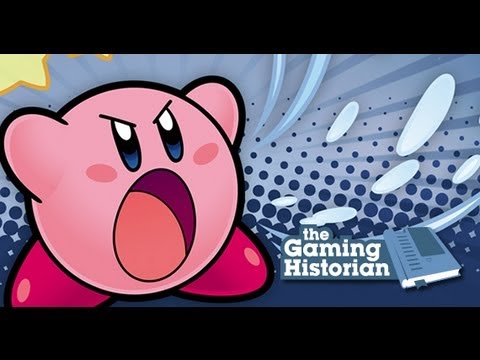 When Sakurai created Kirby's Dream Land, he had a general idea of the game's mechanics. It would be similar to Super Mario Bros., but the protagonist would have a floating ability to make navigation a bit easier on the player.
The appearance of the character was the least of Sakurai's concerns — in fact, he didn't even really have a character in mind when he presented the game at HAL Laboratory.
"I needed a dummy character to represent what the real character would be doing in the game," he once said in an interview, per Eurogamer. "I just put a Kirby-shaped blob in my presentation as a placeholder."
As it turned out, Masahiro's bosses loved that blob. It inspired the rosy-cheeked puffball of the Kirby franchise.
"Everyone liked it so much we decided to keep it in the game without any major changes," Sakurai added.
There was one feature left to figure out: Kirby's color. As fans may recall, the cover art for Kirby's Dream Land featured a white Kirby to match the colorless screen of the Game Boy. But that was never going to be Kirby's real color, and there was some debate at Nintendo over what color he should have been.
Sakurai had imagined Kirby as pink, while Nintendo game director Shigeru Miyamoto "envisioned Kirby as yellow," Sakurai said. Sakurai clearly won that debate. However, Nintendo later honored Miyamoto's suggestion by adding a yellow Kirby to Kirby Air Ride and Super Smash Bros.
How a lawsuit helped Nintendo find Kirby's name
Once the developers settled on Kirby's appearance, they needed a name. Spoiler alert: it wasn't Kirby.
As Source Gaming notes, Kirby's original name was Popopo, but Nintendo felt that wouldn't appeal to Western players. A few different names were thrown around until finally, they thought of lawyer John Kirby.
Back in the '80s, Universal sued Nintendo on the grounds that Donkey Kong was a trademark infringement of King Kong. Kirby acted as Nintendo's lawyer in the case and fought vigorously to keep the company out of trouble.
Thankfully, Kirby won the case. Nintendo was so grateful that, 10 years later, they named a little pink blob after him. And the rest is history.
Source: Read Full Article