Punxsutawney Phil is over it and somewhere out there, Ego Nwodim is still trying to cut through that extra, extra well done steak.
We are still chuckling after tonight's "Saturday Night Live," which had us breathless with laughter by the time it was done. Pedro Pascal proved game for anything, bringing some of the night's best moments, and struggling to keep it together himself.
After an off week, "SNL" came back with some of its strongest material of the whole season. Bowen Yang, who is making it a thing to appear as random objects, was brilliant as the Chinese balloon being interviewed after it got shot down.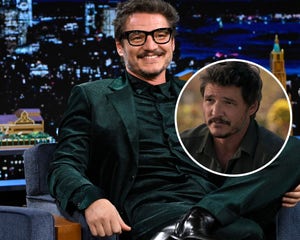 Pedro Pascal Says He Took an Ambien and Forgot He Was Cast in The Last of Us
The night also featured Punxsatawney Phil prognosticating about the meaning of it all, as well as a spot-on parody of Super Bowl wings ads and a dark twist — a la "The Last of Us" — on another classic video game franchise that has to be seen. No seriously, it is one of the most beautifully and complex pre-taped pieces the show has ever done … we'll never think of Rainbow Road the same!
Sarah Paulson showed up for a random cameo and got a huge audience response. The crowd was definitely into the show, though just how strong it was probably had a lot to do with it. Interestingly, for the second week in a row the show got better and better as it progressed, with the sketch that had us struggling to breathe we were laughing so hard coming in at the ten-to-one slot.
Either we're loosening up as the show is progressing, or they are putting this thing together all wrong. Of course, it wasn't as much of an issue tonight as every single sketch was entertaining and brought the laughs. That's a rare feat in any "SNL" era and should definitely be lauded.
As usual, we're ranking all the sketches from worst to first, including the Monologue, Cold Open, "Weekend Update" and any sketches that were cut for time but made their way online. We'll skip the musical guests, because they're not usually funny — unless Ashlee Simpson shows up. We wrap up with a look at the cast-member who had the strongest week.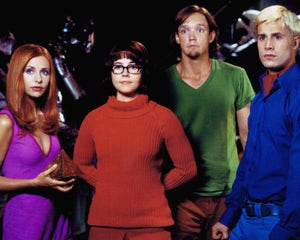 Sarah Michelle Gellar Confirms Scooby Doo Movie Cut Daphne & Velma Kiss, Gay Fred Quip
Monologue: Pedro Pascal
Unable to render YouTube Video.
Rather than try to be all that funny, Pedro went with humble sincerity, expressing gratitude for this renaissance moment in his career starring in both "The Mandalorian" and "The Last of Us," while also paying tribute to his Chilean roots. He even got a little emotional when sharing that his parents fled that country to bring him and his sister to America when he was younger to afford them more opportunities. It wasn't all that groundbreaking or memorable, but it was sincere, which was sweet.
Cold Open: Chinese Balloongate
Unable to render YouTube Video.
Thank goodness for Bowen Yang, salvaging what was well on its way to becoming another lackluster Cold Open. Kenan Thompson was silly enough as the general who orchestrated the complex operation to shoot down the Chinese spy(?) balloon, but it was Bowen as the balloon who finally injected some energy into the piece. His indignation at … well, everything but mostly being shot down, was just what we needed after four days of Facebook posts and blurry pictures from our aunt's iPads of the balloon along its trajectory across the United States.
Fancam Assembly
Unable to render YouTube Video.
It seems like every generation "SNL" has to talk about generational slang. In this case, though it's even more than that as Pedro Pascal's teacher calls an assembly to try and figure out why his students are posting fancams of him on TikTok and then basically everything they say is teen lingo that he can't even begin to understand — is it good or bad? Their explanation that they were basically broken by three years of Covid is pretty funny (and probably rings a bit of truth for the younger generation. Also, random Sarah Paulson cameo got a huge response, but she was a cute addition to the piece.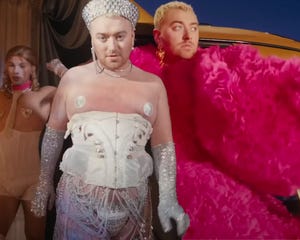 Sam Smith Posts About Their 'Incredible Outfits' for Music Video Following Criticism
The Big Hollywood Quiz
Unable to render YouTube Video.
What a great way to poke fun at the loss of pop culture commonality in the past 20 years. In this era of streaming and individually curated television and movies we can watch on the toilet, gone are the days when everyone knows what the big shows are, what projects the big movie stars are in. We don't read newspapers or magazines and we aren't exposed to anything outside of our bubbles creating an interesting contrast between what we knew about entertainment throughout its entire history and then suddenly we don't know anything. Bowen Yang's recurring game show host is the perfect tone of condescending and upbeat to present the shock that no one knows the top show on Netflix or what Samuel L. Jackson's latest project is.
Italian Restaurant
Unable to render YouTube Video.
On a night where most of the sketches had solid endings, this misdirect didn't land as firmly for us. Perhaps that's because we were enjoying so much what was coming before it, with the staff at an Italian restaurant over-praising the beauty of all of the women at a table except for Sarah Sherman. The different ways they demeaned and belittled her were so funny, as was her rising frustration and eventual outrage. Everything was working, so we didn't really need the weird final moments.
Weekend Update
Unable to render YouTube Video.
Colin Jost kicked off "Update" with the world's most complicated gender reveal party before Michael Che woke the audience up by hitting Florida hard for removing prominent African-American authors from their AP classes in favor of authors they consider "one of the good ones." They had some great jokes on George Santos, Donald Trump, the "stalking Christmas" that is Valentine's Day and a particularly off-color joke from Jost ("in February") about the "two brothers" playing one another at the Super Bowl.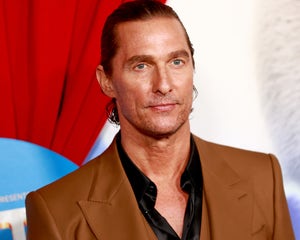 Matthew McConaughey Says Fortune Teller Convinced Him to do 'How to Lose a Guy in 10 Days'
Unable to render YouTube Video.
Nice work from Michael Longfellow in embodying this nihilistic take on Punxsutawney Phil, questioning the point of his existence and role in forecasting when the core of the Earth has stopped spinning and time is an illusion. His laid back delivery was perfect for this role and he never overplayed the character, playing off of Che very well throughout the segment. Another good showcase for the most dynamic of the new players so far.
Unable to render YouTube Video.
Once again, the boys were on fire with a great string of jokes about the possibility of genetically reviving the dodo bird, what 400 selfies of a bear really means and why single women are owning more homes. Jost got plenty of groans for his joke about recommendations that kids don't use social media until they're 16 and his terrible chicken wings punchline (which even had him hanging his head in shame).
Unable to render YouTube Video.
Some pretty decent English accents on James Austin Johnson and Devon Walker as two rappers from across the pond who express their thoughts on the Royal succession in rhyme. As parodies of UK hip-hop, they're not too bad — we have to admit we got a kick out of their silly sound effects and the reason behind those choices. We also were already expecting James' line that he's "allergic to dairy" by the third verse, but in a fun kind of anticipatory way. We're not sure the characters are deserving of recurring status, but they were fun as a one-off.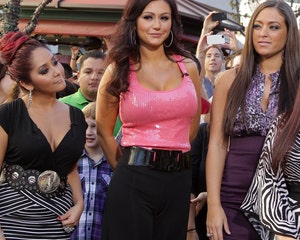 JWoww and Snooki Explain Frustrations with Sammi Sweetheart, Sammi Responds!
Mami
Unable to render YouTube Video.
Marcello Hernandez gets a spotlight because of his own Hispanic heritage so Pedro Pascal can hilariously play his (unshaven) mother in this slice-of-life sketch about Chloe Fineman as Marcello's fish-out-of-water very white girlfriend. Pedro's reactions to everything she says and does — and particularly her vegan sliders — is hilariously on point. Particularly effective were the Spanglish segments with Chloe and much of the audience only able to pick up the English words, which were all potentially offensive and at the very least stereotyping. The whole sketch leaned on stereotypes, but in a very charming way.
HBO's Mario Kart
Unable to render YouTube Video.
The graphic effects department worked double time to create a dystopian Mario Kart track in this sendup of HBO's adaptation of "The Last of Us." As parodies go, this is spot-on to the mechanics and classic elements of the video game with an over-the-top grittiness. We also appreciated the token complexity for the characters being them coming out as bisexual, because that is about the laziest way to appear to be making an effort at representation and inclusion. We're still laughing at Pedro Pascal's Mario munching on mushrooms because he needs to feel big, or Marcello Hernandez' Toad sacrificing himself dramatically after Kenan Thompson's Bowser blasts him with a red turtle shell.
Coma Voice
Unable to render YouTube Video.
A very silly premise executed almost flawlessly by Pedro Pascal, until Heidi Gardner started to get the giggles (and she almost never breaks) at his message of love spoken through some crazy nasal valley girl accent. A certain line took three times for Pedro to be able to get through without giggling, which almost set the entire group off. This was definitely a piece carried by Pedro's commitment to just being ridiculous and sticking to it. It's also a case of the little breaks elevating the piece because we could see them acknowledging the absolute absurdity of what they were doing, which was fun in and of itself.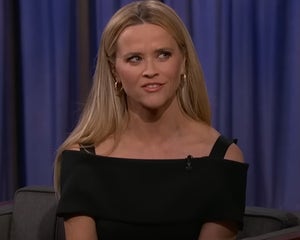 Reese Witherspoon 'Stripped All The Gears' of Denzel Washington's Porsche as an Intern
Wing Pit
Unable to render YouTube Video.
This commercial parody has the perfect escalation from normal Super Bowl charm about ordering your favorite wings to levels we couldn't have anticipated when it started. The reactions from the partygoers as Heidi Gardner's deals kept getting larger and larger were perfect. We won't spoil the ending as it is surprising or all the twists and turns along the way, but we will give a shout-out to Molly Kearney for being able to take a hit. This was the perfect length and one of the best-ever fake ads in "SNL" history.
Extra Extra Well Done
Unable to render YouTube Video.
Beautifully off the rails with a standout performance from Ego Nwodim as the put-upon younger sister of Punkie Johnson. We were already enjoying her bizarre conviction that Pedro Pascal was trying to "get some butt" tonight, but the sketch reached new heights of hilarity when she started cutting into her overdone steak, shaking the whole table violently. The chaos had Bowen in stitches — as did the line, "'Cause we're black?" — and we found ourselves laughing harder and longer than we have all season long In the midst of it all, Ego did a great job of keeping her demeanor on point, making the ridiculousness land even harder.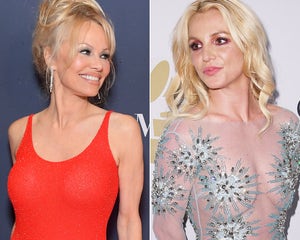 Britney Spears Praises Pamela Anderson's Sons for Support, Sees Comparisons to Herself
PLAYER OF THE WEEK
The biggest laughs of the night definitely came from Ego's scene-stealing performance in the final sketch, though we have to give partial credit to the table itself. It was another well-balanced showcase overall, but there was one standout performer.
Not only did he show up in more sketches than anyone on the night, but Bowen Yang brought his unmistakable energy and charisma to each role, big or small. Whether he was giggling opposite Ego's meat-cutting madwoman, expressing indignation as a balloon or smarmy disappointment as a quiz show host, Bowen always brings his A-game.
He's quickly becoming a leader in this younger cast, as well as a go-to when you need someone reliable to get the laugh. If you're going to interview a weather balloon, you can't do better than Bowen for that kind of role. He brings a sass to it no one else really will.
"Saturday Night Live" returns February 25 with host Woody Harrelson and musical guest Jack White.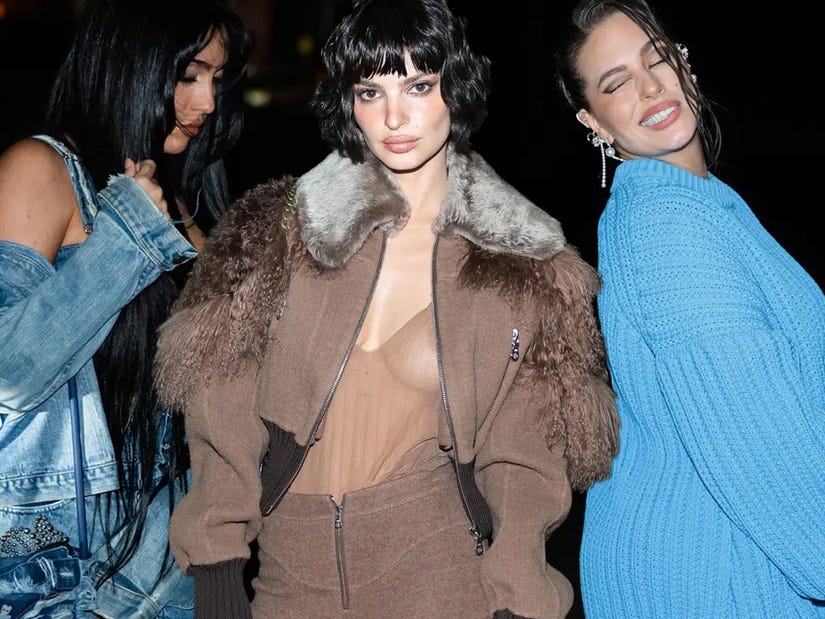 Source: Read Full Article